George Zimmerman Selling Confederate Flag Painting To Benefit Gun Store Owner Who Banned Muslims From His Business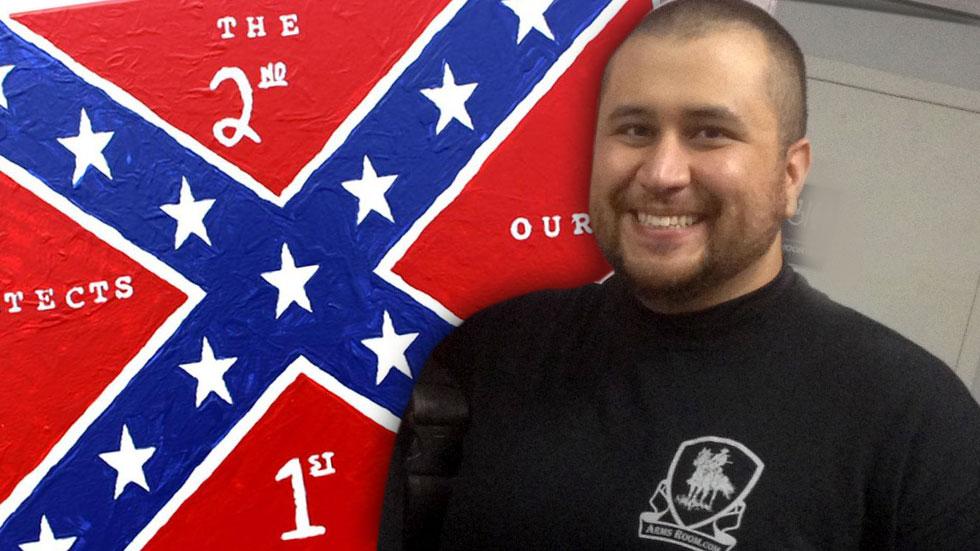 George Zimmerman's latest art-for-sale is a rendition of the Confederate flag to honor Andy Hallinan, a gun shop owner who banned Muslims from his business.
Hallinan, who owns a business called Florida Gun Supply, came under fire from the Counsel for American/Islamic Relations, who sued the Inverness, Fla. businessman after he announced his establishment would be a "Muslim-free zone" in the wake of the June shooting of four Marines in Chattanooga, Tenn. last month.
Article continues below advertisement
In a clip on Hallinan's website Zimmerman explained his motivation for trying to help the business owner in his legal battle.
"I didn't want to see you give up the fight simply for financial reasons," Zimmerman said. "I know that you're up against CAIR, and various organizations. CAIR is suing you. They have endless resources.
"They have tons of money. I just wanted to do my part."
Both men, according to the website, feel they have been unfairly portrayed as racist by the media.
Watch the Video on RadarOnline.com
A statement on Hallinan's website reads, "The media will ONLY share the point of view that makes them sell more papers ... that's all they're interested in," citing good deeds both did that were unreported by outlets looking to paint them as villains.
Zimmerman -- who captioned the painting, "The 2nd protects our 1st" -- said he did so as a "double entendre" referring to the respective rights to bear arms and free speech.
Article continues below advertisement
"The first flag I painted on this canvas was an American Flag, but decided to repaint over it with the Confederate Flag when I heard Andy was getting sued by CAIR," he said. "The 2nd flag I painted was the Battle Flag -- which we need in America in order to protect the first."
The men, who are dividing the proceeds, are selling prints for around $50, and plan to raffle off the original copy for as much as $100,000; Zimmerman previously got more than $100,000 of an American flag he painted.
Zimmerman, a former neighborhood watch volunteer, gained prominence after he gunned down 17-year-old Trayvon Martin in February 2012, triggering a case that stirred racial tension in the community of Sanford, Fla., before gaining national attention. Zimmerman was subsequently acquitted in the incident in 2013.