Exclusive
Trump Sued By Teen 'Sex Slave' For Alleged 'Rape' — Donald Blasts 'Disgusting' Suit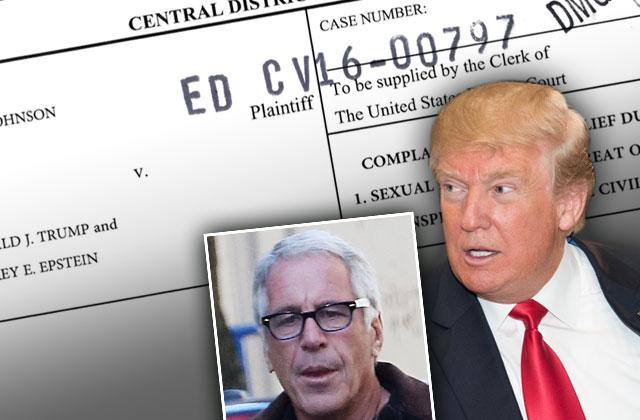 Presidential frontrunner Donald Trump is fighting what could be the biggest election season bombshell yet — explosive court claims that he raped a woman when she was a teen.
The woman — identified as Katie Johnson — filed documents in a California court on April 26, accusing Trump and billionaire pedophile Jeffrey Epstein of "sexual abuse under threat of harm" and "conspiracy to deprive civil rights," RadarOnline.com has exclusively learned.
Article continues below advertisement
She filed the lawsuit herself — without legal representation — and is suing for $100 million.
READ The Outrageous Allegations
Trump told RadarOnline.com moments ago: "The allegations are not only categorically false, but disgusting at the highest level and clearly framed to solicit media attention or, perhaps, are simply politically motivated. There is absolutely no merit to these allegations. Period."
Johnson's complaint, obtained by RadarOnline.com, alleges the duo forced "her to engage in various perverted and depraved sex acts by threatening physical harm to her and also her family," "making her their sex slave" from June to September 1994.
"She was subject to extreme sexual and physical abuse" from the age of 13, it's claimed in the papers.
Johnson alleged "she was enticed by promises of money and a modeling career to attend a series of underage sex parties held at the New York City residence" of Epstein "and attended by" Trump.
"On the first occasion," Johnson said she "was forced to manually stimulate Defendant Trump with the use of her hand … until he reached sexual orgasm."
Article continues below advertisement
"On the second occasion," the documents state, she "was forced to orally copulate Defendant Trump by placing her mouth upon Defendant Trump's erect penis until he reached sexual orgasm."
"On the third occasion," she claimed she "was forced to engage in an unnatural lesbian sex act," with a 12-year-old "sex slave."
"Both minors were forced to orally copulate Defendant Trump by placing their mouths simultaneously on his erect penis until he achieved sexual orgasm," she claimed.
But in a twist to the looming scandal, questions are already being raised about the validity of the woman's allegations.
A political source told RadarOnline.com: "This is nothing short of a desperate plot to try and ruin Donald. It won't work."
RadarOnline.com has learned the address she listed on the court documents is a home that is foreclosed in Twentynine Palms, Calif.
A neighbor, Danny Mira, told RadarOnline.com that no one has lived at the home since its owner, David Stacey, died in October last year.
Article continues below advertisement
Mira said he and other neighbors have kept a close watch on the home because it was overrun by drug addicts who squatted there while Stacey was hospitalized in the final days of his life.
The neighbors, with the help of police, managed to clean up the home several months before Stacey's death, RadarOnline.com has learned.
Sharon Rose, a local realtor, told RadarOnline.com the property went into default shortly after Stacey's death and was officially taken over by the bank on April 11 — 15 days before the woman filed her suit.
What's more, the phone number the woman listed on the court documents is not connected, and she also told the court she had less than $300 to her name in savings.
In her court papers, Johnson alleged that she was "tied to a bed by Defendant Trump, who then proceeded to forcibly rape" her during a "savage sexual act."
Johnson also claimed that Epstein forced her to complete depraved sex acts as well, and that he and Trump even argued over who should take her virginity.
Article continues below advertisement
She alleged that she was "fully warned on more than one occasion by both" Trump and Epstein "that were she ever to reveal any of the details of the sexual and physical abuse that she had suffered as a sex slave" that she "and her family would be in mortal danger."
She claimed she was told "that this would mean certain death for herself" and her family, "unless she remained silent forever on the exact details of the depraved and perverted sexual and physical abuse she had been forced to endure."
Story developing.
Reporting by Melissa Cronin, Doug Montero, Sharon Churcher, Gina Bacchiocchi and Robert Hartlein.