Custody War! Todd Chrisley Battles It Out In Court With Son Kyle Over Baby Chloe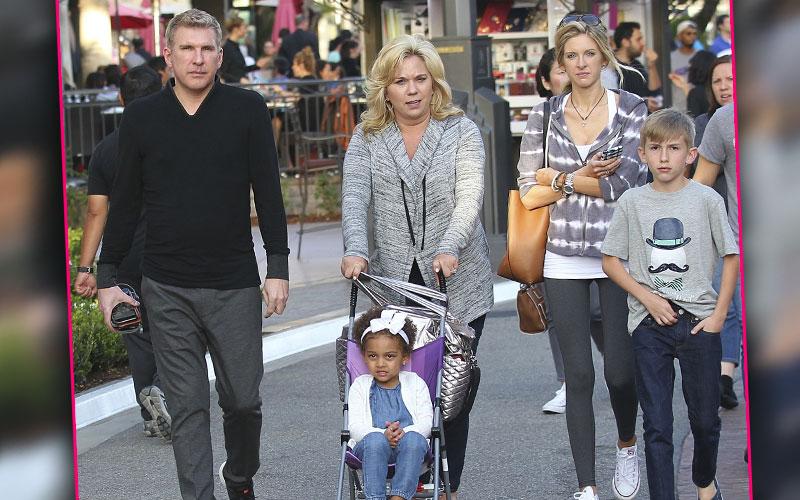 Todd Chrisley isn't just a self-described "patriarch of perfection." He thinks he knows best for his granddaughter, Chloe, too, and RadarOnline.com has learned that he's fighting with his son to keep the toddler on Chrisley Knows Best.
The reality TV father and son have been fighting over Chloe for years.
In 2015, RadarOnline.com obtained an exclusive document from Todd and wife Julie Chrisley's lawyers to USA Network stating that the three-year-old daughter of estranged son Todd and wife Alexus Whibley will stay on the hit TV show — even if Kyle doesn't want her to — since they are the child's guardians.
Article continues below advertisement
The letter stated that "all legal decisions related to Chloe were to be discussed with Chloe's parents, Todd and Julie, and in the event of a disagreement between the parties related to a legal decision, Todd would have the final decision making authority."
But has the previously ordered arrangement changed?
Chloe's mom thinks so. Alexus Whibley, the baby mama of Chloe, contacted RadarOnline.com on March 8, and said, "FYI, in case you wanted an update about Chloe being on the show, Kyle's lawyer won ... and Chloe will no longer be appearing on the show again!"
MORE ON:
Chrisley Knows Best
Article continues below advertisement
"I want to give Chloe the type of life that this beautiful little girl of mine deserves," Todd said, adding, "She now goes to an amazing school because she is such a gifted child. She goes to ballet classes and she loves her swim classes. I'm sure that any grandparent can relate to this. I just want what is best for my granddaughter."
As RadarOnline.com previously reported, the battle for Chloe began when the self-made millionaire – and father to Lindsie, Chase, Savannah and Grayson – cut his now 25-year-old son Kyle from the family's hit TV show. Kyle has admittedly struggled with drug addiction, but claims he is on the right path now.
Do you think that Chloe Chrisley should stay with Todd and Julie, or be forced to live with her parents Kyle and Lexi?