Courteney Cox Engagement To Johnny McDaid Is Off, Source Claims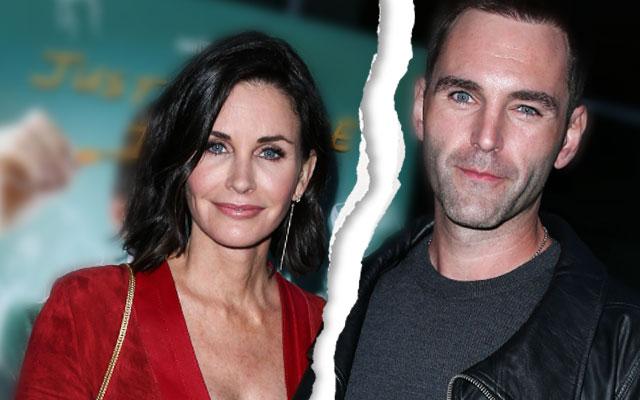 This wounded cougar's roar is now just a sad whimper!
Courteney Cox's hot and heavy engagement to Irish rocker Johnny McDaid has hit the skids — leaving love-sick Courteney in a state of shock, a source exclusively claimed to RadarOnline.com.
Johnny, 39, has not only moved out of the Friends star's two Los Angeles homes, but also packed up his recording equipment and headed back to Ireland.
"Courteney is just blown out of the water by this," the Hollywood mole claimed, adding the split comes less than a month before a planned "pre-wedding celebration."
Article continues below advertisement
"Johnny was really the love of her life. She doesn't know where this came from."
The stunning split was driven by Johnny's renewed commitment to his music career and the fact he was tired of being her arm candy on the Hollywood social scene.
"Johnny had a hard time dealing with her celebrity lifestyle," said the source. "He had enough of the scene and just wants to focus on his music."
The smitten Cougar Town star, 51, was completely sandbagged by Johnny's startling departure, leaving pals deeply concerned about her health.
"She's really depressed and has lost a lot of weight," our source squealed.
The couple began dating in late 2013 and became smooch-machines in public. They quickly announced their engagement in June 2014.
But insiders said Johnny had been privately stewing over Courteney's unrelenting need to party with her celebrity pals.
She was the last to leave Jennifer Aniston's August wedding — dancing and drinking champagne with her former Friends pal until 3 a.m.
Article continues below advertisement
"Johnny had jealousy issues and told Courteney there was something about the relationship that didn't feel right," our mole claimed.
"Her cougar reputation ended up getting the better of him."
Courteney was in the midst of sending out invitations to family and friends for the pre-wedding celebration at an undisclosed location to be held before year's end — another fact that had apparently gotten under Johnny's skin.
"He didn't like the fact that she can be a bit controlling," the source said.
Now, she has to break the news to everyone that the party — and nuptials — are off!
"She's really down in the dumps over this," the insider said.