Bree Olson Reveals Even More Scary Sheen HIV Secrets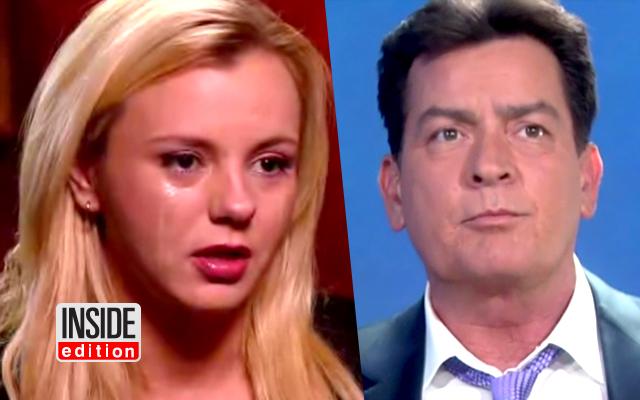 Charlie Sheen's former "Goddess" Bree Olson is lashing out at her ex-boyfriend yet again after he admitted that he is HIV positive, claiming that he put her life in jeopardy.
Furious Olson slammed, "He's a monster!"
The National ENQUIRER broke details of the HIV cover-up scandal on Monday, November 16, 2015, and Sheen confirmed the report on The TODAY Show Tuesday morning, insisting to Matt Lauer that he never had unprotected sex after his diagnosis.
Article continues below advertisement
But Olson, real name Rachel Oberlin, has a different story to tell.
The 29-year-old XXX film star is livid, claiming, "I could be dead right now! I could literally be dead right now because he did not tell me that!"
She lived with the former Two and a Half Men star in 2011, which coincides with the time he said he was diagnosed as HIV positive.
However, she told Inside Edition that she was unaware of the 50-year-old Sheen's health status while they had sex.
"He says he found out when him and I were together. I was living in his house. We were having sex every single night. He lied to me about having HIV the entire time we were together," she claimed.
Olson told Inside Edition that they regularly had sex without protection, or used lambskin condoms, which do not protect against the disease.
"He used this word: 'I'm clean. I'm clean,' and - I know... but I believed him," a tearful Olson claimed.
Article continues below advertisement
"It was like playing Russian Roulette. That's the best way to put it. It was like putting a gun to my head and pulling the trigger each time."
She also told Inside Edition that she was at Sheen's house when he would receive calls from a doctor and she now believes they were about his HIV diagnosis.
"He would come out of the room and kiss me and hug me, like it was nothing, and have sex again that night. We had sex every night. For a full year," she said.
Olson also claims that she would not have negatively judged Sheen had he told her about his diagnosis. "There is no one he could have trusted more to confide this information."
Why didn't he tell her? She said, "I don't think he cared! I know he didn't care!"
Luckily, Olson said that she took an HIV test and is negative.
For Inside Edition's full reports, tune in on Tuesday, November 17 and Wednesday, November 18. Check local listings for stations and times at www.insideedition.com.