Exclusive
HIV-Positive Charlie Sheen Had Sex With Women, Men & Transsexuals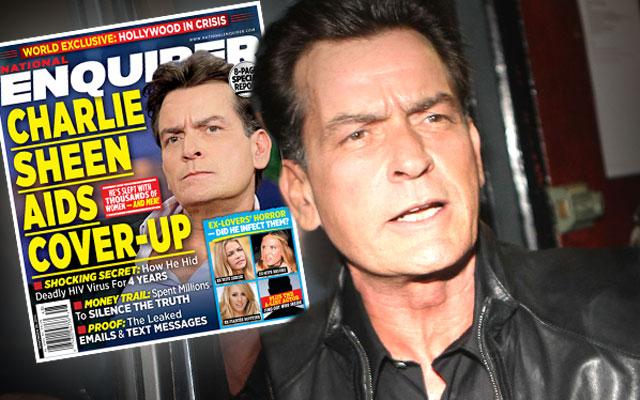 Sex maniac Charlie Sheen not only bedded porn stars, groupies, call girls and strippers — he also slept with transsexuals and men!
Multiple sources have informed RadarOnline.com the 50-year-old television star — who admitted he was HIV positive in a bombshell interview on Tuesday morning — regularly forked out tens of thousands of dollars to sleep with sex swap escorts and gay lovers.
It's a sensational disclosure that adds a new dimension to the already bombshell sex scandal that exploded when The National ENQUIRER revealed the former Two and a Half Men star had been living with an HIV diagnosis for the past four years.
Article continues below advertisement
"Charlie is secretly bisexual," a source confided to RadarOnline.com. "He's had sex partners of all kind. He'd regularly spent thousands of dollars to sleep with transsexual hookers who he would hire and have them service him at his Mulholland Estate mansion."
What's more, RadarOnline.com has learned Sheen and former ex-wife Brooke Mueller had multiple sex partners together in the short time that they were married.
"It's more twisted than anyone knows or has suspected," a source who knows both of them told RadarOnline.com. "It's crazy."
One source estimated that they shared as many as 10 partners — some male and some female.
RadarOnline.com spoke to a legal source with knowledge of the situation in the wake of Sheen's TODAY show interview who said one top L.A. lawyer had secretly settled anywhere from 12 — and possibly up to 24 — cases brought against Sheen by people he exposed to the virus, which causes AIDS.
"His disclosures to Matt Lauer will open the floodgates," revealed the source to RadarOnline.com, who called Sheen's actions tantamount to an act of "fraud."
Article continues below advertisement
"Charlie's shakedown claims are ridiculous," continued the source.
"In every case, this lawyer struck confidential settlements based on the fact that they were able to successfully argue that Sheen had done something wrong — civilly. Lawyers now believe there are many claims that could be brought against Sheen. Some could even argue those settlements he struck in an effort to secure people's silence could now be null and void."
In a stunning development, RadarOnline.com can also report that despite Sheen's insistence that he notified his partners of his HIV-positive status before intercourse, in one mediation, a claimant produced bombshell text message evidence.
The plaintiff, RadarOnline.com has been told, had a text message conversation that read as follows:
"How could you do this to me? How could you expose me to HIV without telling me?'"
To which Sheen responded, "Oops, sorry, I guess we'll need to figure this out now."