Meet Grandma! Caitlyn Jenner 'Can't Wait' To Meet Her Grandkids After Kourtney Kardashian & Scott Split — Did Disick Keep Them Apart?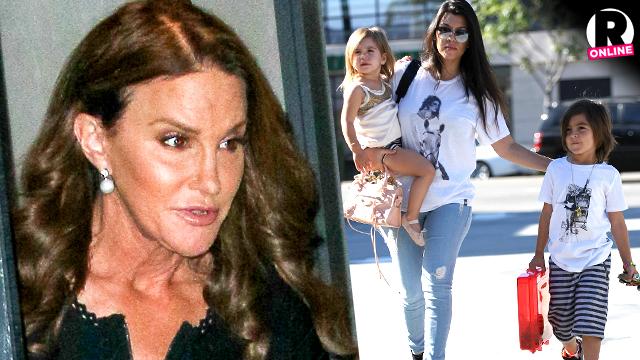 Kourtney Kardashian's split with Scott Disick could end up healing her family! RadarOnline.com has learned that Caitlyn Jenner is thrilled that he's gone because now she plans to meet her grandkids Penelope, Scott, and Mason for the very first time.
As Radar reported, Disick and Kardashian had been delaying the kids' introduction to newly transitioned Jenner. How much of the distance was Disick's doing?
Article continues below advertisement
"Caitlyn has never seen eye-to-eye with Scott and never really did from day one," an insider told Radar.
"Scott had a lot control over Kourtney," the insider said. "Now that Scott will be out of the picture, Caitlyn will get to see her grandkids again and she cannot wait to be a part of their lives."
Although Jenner was estranged from Mason, 5, Penelope, 2 and six-month-old Reign, "that is all about to change," said the source.
However, not everyone in the family is pleased with the breakup, as the insider tells Radar that Jenner's ex-wife, momager Kris Jenner, 59, knows this means another blow for the KUWTK brand, which relied heavily on the plot lines that Disick's alcoholic debauchery created for the show.
"Kris never looked out for Scott's best interests, she just saw that he gave her beautiful grandkids," said the source.
"Ultimately, Kris and Caitlyn will be both helping Kourtney through this process because they both know that there is a lot at stake and love her and those kids tremendously."
Do you think that Caitlyn Jenner should have any last words with Scott? Tell us your thoughts in the comments below.
Watch: Kourtney Kardashian Tells Scott Disick She Needs Space