Bombshell Revelation: Bruce Claims Kris Saw Him Cross-Dress — But They Still Had 'Good' Sex Life!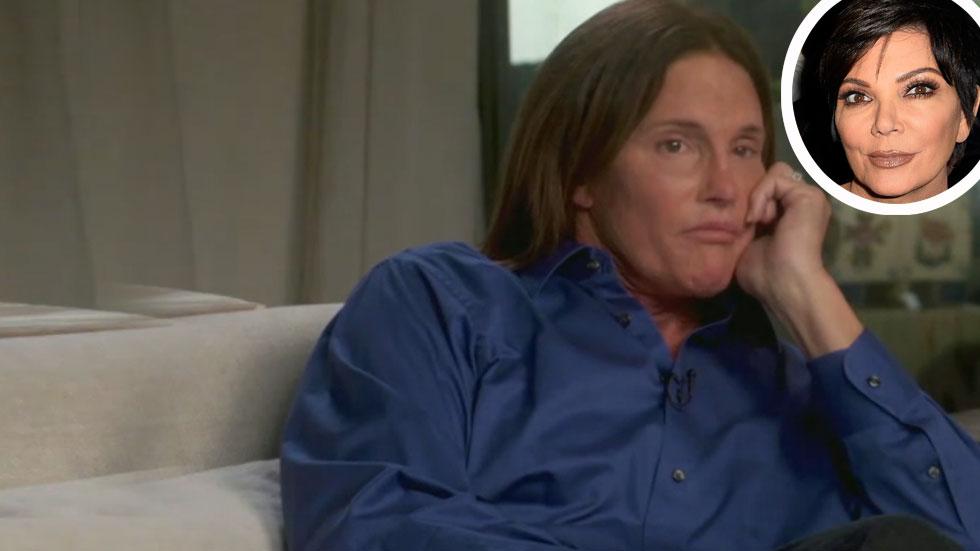 How could Kris Jenner live with Bruce for more than 20 years without knowing he wanted to be a woman? According to Bruce, she didn't! Bruce claimed in his bombshell new interview with Diane Sawyer Friday night that the Keeping Up with the Kardashians momager knew he wore women's clothes and had 36B breasts — and didn't care!
Admitting Kris once stumbled across him in women's clothes, Bruce said she "didn't say much … just 'OK you gonna change now?'"
Article continues below advertisement
He also said he had 36B breasts during their marriage thanks to years of hormone therapy, and Kris was fine with those too. "You can't hide those things!" he joked.
"I loved Kris. I had a wonderful life with her," he said. "I learned a lot from her. … I thought we had a pretty good sex life."
But soon, he said, her inability to accept his changes came between them.
"It was tough on her. … Kris is a good woman. I've got no complaints with her," she said. "She's a good person. If she'd have been really good with it and understanding, we'd probably still be together."
But still, he had no choice.
"I couldn't take the walls closing in on me," he explained. "If I died … I'd be so mad at myself that I didn't explore that side of me."
Kris had no comment.
Story developing.
Watch: Bruce Claims Kris Saw Him Cross-Dress