Exclusive
Bobbi Kristina Brown Death Watch: Mysterious Movements At Atlanta Hospice Worry Fans -- Cops Reveal What's Really Going On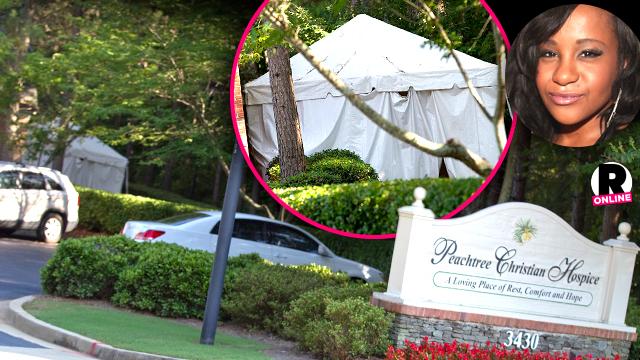 Could Bobbi Kristina Brown's long, slow march to death be coming to an end? The 22-year-old has been in a coma since being found unresponsive in a bathtub in January, but strange happenings at her Atlanta hospice Wednesday raised questions about her current state.
According to photos of the scene, Peachtree Christian Hospice in Duluth, Georgia, erected a mysterious white tent on the property Wednesday evening.
Article continues below advertisement
A receptionist for the facility told RadarOnline.com "there's been no" deaths today, but declined to comment further.
And Major Don Woodruff of the Duluth Police force told RadarOnline.com that local police have not been notified of any major occurrences at the facility.
According to Woodruff, the tent was erected around 5 p.m. local time, but he did not notice anything unusual on the scene prior to that.
Woodruff said that the family has hired state troopers as security in her room, and that the hospice itself has hired private security for the building.
MORE ON:
Bobbi Kristina Brown