Bill Clinton 'Tried To Seduce' Jackie Kennedy, Tell-All Book Claims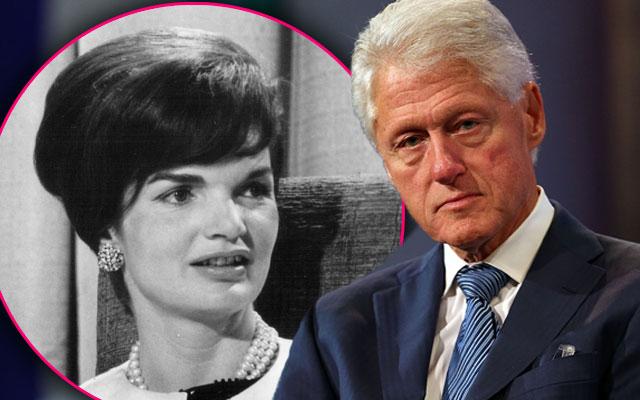 A new book on Bill and Hillary Clinton reveals shocking claims made against the political power couple.
Bill & Hillary: So This Is That Thing Called Love, by Darwin Porter and Danforth Prince of Blood Moon Productions, details new secrets of the former president's wandering ways, even alleging that Hillary once asked him to be tested for HIV because she knew that he preferred "unprotected sex."
The text results were negative, the book claims.
Article continues below advertisement
But even more shocking, the salacious tell-all also alleges that Clinton once "tried to seduce" former First Lady Jackie Kennedy while visiting her Manhattan apartment.
"We almost indulged in a wrestling match. It was most embarrassing," Jackie allegedly told friend Katharine Graham of the Washington Post. "I mean, I was flattered that I turned him on so much at my age, but Bill was just like Jack Kennedy in the sense that neither of them wanted to take 'no' for an answer. Ever since that day, I prefer not to be alone with Bill."
Meanwhile, as Radar previously reported, high-power attorney Alan Dershowitz recently acknowledged in a sworn deposition that he cannot rule out the "possibility" that the former president took part in a depraved sex romp with under-age girls on pedophile Jeffrey Epstein's orgy island.
According to a deposition transcript reviewed by Radar, Dershowitz recalled a claim that "Bill Clinton was offered two under-aged Russian women for sex," in 2002. And while he insisted that he believed that to be a "lie," he acknowledged that he can't prove it.
With Hillary's presidential campaign in full swing, there's no doubt the potential president is hoping to squash any stories from her husband's past.