'Mob Wives' Stars Brittany Fogarty & Karen Gravano BANNED From Big Ang's Wake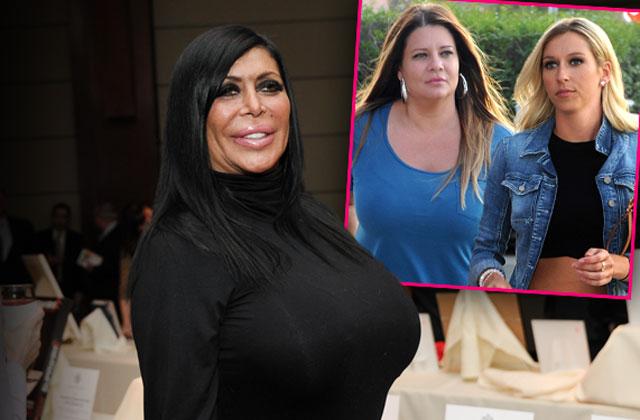 Family and friends grieved the loss of Mob Wives star Angela "Big Ang" Raiola during her heartbreaking wake on Saturday, but some of her former costars weren't even invited, Radar has learned.
According to Page Six, Mob Wives cast members Brittany Fogarty and Karen Gravano were banned from the Brooklyn service over the weekend, due to "bad blood" in the families' past.
"Big Ang's ex-husband blocked Brittany and Karen from the funeral," a source told the magazine, "he's paying the bill and so he and other friends and family banned them."
Article continues below advertisement
But Fogarty claims she was very close with Raiola in recent months, explaining that the realtiy star welcomed her with open arms on the most recent season of Mob Wives.
"She would light up any room she walked into," Fogarty tearfully remembered. "She taught me so much. She was the funniest person."
Meanwhile, those who did attend the funeral told Radar that the first of the mourners began to file through promptly at 2:00 PM ET, as everyone lined up to pay their last respects at what the sources said was "an open casket wake."
"Angela was wearing a black dress with a black fur coat and black heels," a source told Radar. "She also had a headscarf on." As she had battled Stage 4 cancer in her last weeks, she had lost her hair.
As Radar previously reported, Raiola, 55, passed away on February 18 after losing her battle to stage four lung and brain cancer.