Exclusive
Jay Z 'Furious' After Beyoncé Sings About Cheating On Her New Album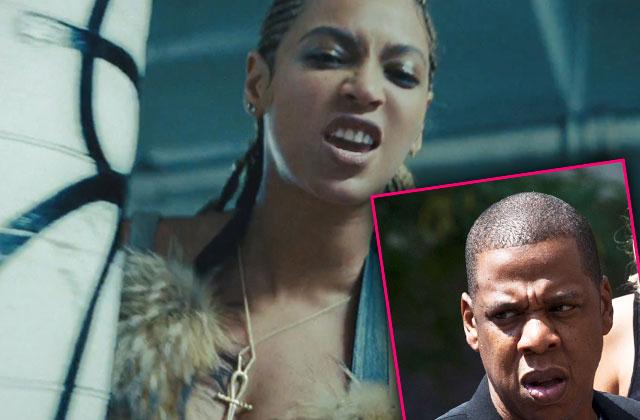 Beyonce's newest album Lemonade left a seriously sour taste in her estranged hubby Jay Z's already shattered reputation and RadarOnline.com has exclusively learned that he has had enough!
According to a source close to the already fractured superstar couple, after the 34-year-old "Single Ladies" superstar slammed her rap mogul hubby for his alleged cheating, "Jay Z put their entire joint staff on hiatus until May and he is absolutely miserable."
Article continues below advertisement
"Jay Z is not on board with Beyonce's new album," the source added.
And for good reason! Although this is not the first time that 46-year-old rapper has been accused of being unfaithful, the baby-daddy to four-year-old Blue Ivy has NEVER been put on blast by his own wife!
"Are you cheating on me? I don't want to lose my pride, but imma f**k me up a b**ch," Beyoncé sang in one song. In another – possibly aimed at Jay Z's most alleged recent mistress, Rita Ora, 25, – she sang, "He better call Becky with the good hair."
"He hates the direction that her music is taking," the insider added. "Jay Z honestly feels like he is the reason that Beyonce has become so famous."
As RadarOnline.com previously reported, this is just yet another sign that the billionaire duo are headed for divorce.
After selling their house this past summer and moving into a rental in Bel Air, Calif., they have spent an enormous amount of time apart, as Queen B has been primarily focused on building her own kingdom – starting her own music label and launching a fashion line without her estranged husband.
"The tables have turned in their marriage and her recent success is just driving them further apart," the source told RadarOnline.com. "She resents him for so many things right now."
Do you think that Beyoncé was wrong for putting Jay Z's alleged cheating on blast? Tell us your thoughts below.