Tables Have Turned! Angelina Jolie Fears Losing Hubby Brad Pitt To Sienna Miller -- Another On-Set Romance?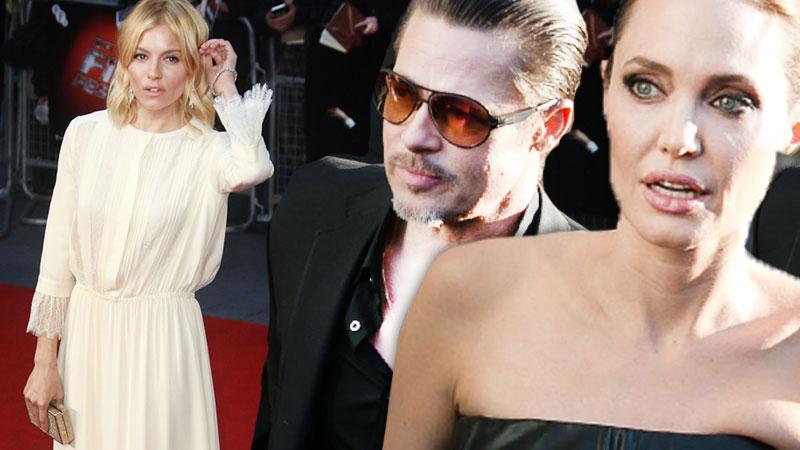 Angelina Jolie and Brad Pitt have built a beautiful life together as a Hollywood power couple, transcending the initial shame of falling in love while Pitt was still married to America's sweetheart, Jennifer Aniston. But now, as Jolie prepares to leave for a film shoot of her own, sources say that she can't shake the feeling that her husband is on the verge of sparking up yet another onset infidelity romance with blonde beauty Sienna Miller!
Article continues below advertisement
Pitt is currently producing The Lost City Of Z, a passion project starring Miller, Charlie Hunnam, and Robert Pattinson. But when he mentioned to his wife that he was going to fly to Ireland to visit the set, Jolie hit the roof! "Angie told him flat out, 'You're not going,'" a source told In Touch. "She's heard Brad bring up Sienna's name almost every day since the film went into production in August."
Pitt's seeming infatuation with Miller has become a real point of contention for Brangelina. "Sienna really gets under her skin," the insider continued. "Brad told her to let him do his job as a producer, and Angelina yelled that she didn't want him near Sienna. They barely talked to each other for the next day." Having started their own romance while Pitt was married, Jolie is especially concerned that it could happen again -- and their prenup even has a strict infidelity clause! Still, while the clause may ensure a monetary payoff in the event of an affair, it cannot protect Jolie from the pain of being a scorned woman.
Article continues below advertisement
Meanwhile, Miller is single, and has a well-known history of hooking up with her cast mates as well as married men. She began a relationship with Jude Law on the set of Alfie while he was still married, then allegedly cheated on him with Daniel Craig on the set of Layer Cake. She then carried on an affair with Balthazar Getty, who was married with four children, conceding, "I probably seem like not a particularly nice person."
As RadarOnline.com has reported, Jolie recently admitted in an interview with Vogue that there had been problems between her and Pitt. "Brad and I have our issues," she said candidly.
Given the history of all parties involved, as well as the fact that Jolie is about to begin shooting in Cambodia for her new film, First They Killed My Father, Jolie reportedly cannot help but feel insecure about relationship. "Angelina is absolutely galled at the way he's been crowing about Sienna and how he can't wait to cast her in a mother movie," the source told In Touch. "She's worried they'll have great chemistry... Her jealousy is getting the best of her."