Exclusive
Amber Portwood's Future Stepson Once Accused Of Selling Stolen Items For Meth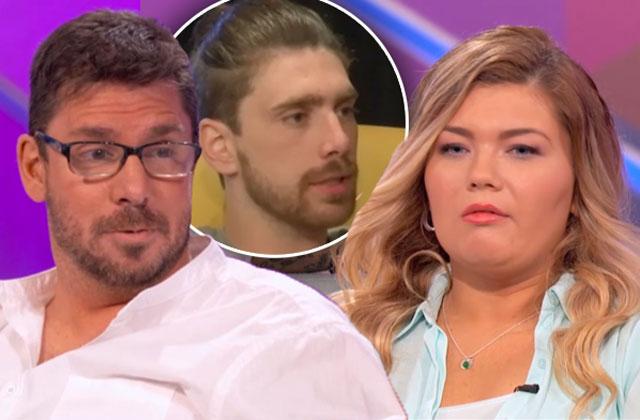 Matt Baier's deadbeat dad behavior may have forced his son down a troubled path. RadarOnline.com has obtained exclusive documents revealing Chris Baier's charges for grand theft, forgery, petty theft, possession of marijuana and other shocking crimes.
According to documents obtained from the Minnehaha County Clerk of Court, Chris was once charged with one count of grand theft, one count of forgery and one count of petty theft.
Article continues below advertisement
On November 4, 2013, a victim reported several items in her home stolen after her roommate threw a house party when she was out of town.
"The victim reported that she was missing various financial aid paperwork and credit card billing information, unknown brand of sleeping pills, various clothing, Nook ebook, Black Hills gold ring, various jewelry, blank bank checks... $60 to $200 dollars… several Wii games, Wii gaming system with controllers, various DVD's and a 39" flatscreen TV."
The victim valued her stolen items at $5,100.
Turner County Sheriff's Department investigator Jay Ostrem found the victim's checks and most of the victim's stolen items at Chris's home during a narcotics investigation.
Chris was then transported to Yankton County Jail. The victim claimed her roommate admitted to letting and helping Chris take the items.
Chris pawned the victim's gold ring and other jewelry at First National Pawn, and attempted to cash the stolen checks along with the roommate and another accomplice.
Article continues below advertisement
"The roommate advised that the victim's Wii and Nook Tablet was traded by Baier for meth," the report reads.
Chris was sentenced to the South Dakota State Penitentiary for two years. The sentence was suspended on the condition that he serve 30 months probation, pay $1,121 in fees and fines, submit to random blood, breath and urine testing, submit to search warrants when requested, refrain from consuming alcohol, refrain from possessing marijuana or controlled drugs or substances, and more.
But the charges didn't end there, on November 5, 2013, one day after the victim's item's were reported stolen, he was charged with receipt of stolen property for stealing the original victim's checks and a 2004 Chevy Sebring that belonged to two other victims, court papers obtained from Turner County Clerk of Court reveal.
He was also charged with possession of two ounces of marijuana or less, and possession of drug paraphernalia. Chris pled guilty to the charges.
Article continues below advertisement
For the possession of marijuana charge, he was sentenced to 90 days in county jail with court fines of $84. For the drug paraphernalia charge, he was ordered to pay $66 in court costs. The 90 days in jail were suspended under the condition he pays all fines within 180 days and obey laws while on 360 days of probation.
The grand theft charges were dismissed on June 23, 2014.
Chris, 25, had another run-in with the law on April 12, 2015 when he was charged with intentional damage to property $400 or less.
"The defendant did with specific intent injure, damage or destroy property," the court documents obtained from the Yankton County Clerk of Court read.
He was found guilty and was sentenced to five days in county jail. The term was suspended and he was ordered to pay $166 in fines and serve probation for 360 days.
Chris will appear on upcoming episodes of Teen Mom OG, as his father and soon-to-be stepmother, Amber Portwood, allow him to live with them to help him battle his drug addiction.
Article continues below advertisement
Chris recently slammed his father to Radar for being absent throughout most of his life.
"I had no father figure in my life," Chris told Radar in June. "I hate that man, for everything he is and isn't. He owes us thousands and thousands of dollars, for 18 years of support. We struggled like dogs with money when I was growing up."
Are you surprised by Matt's son's troubled past? Tell us in the comments.
We pay for juicy info! Do you have a story for RadarOnline.com? Email us at tips@radaronline.com, or call us at (866) ON-RADAR (667-2327) any time, day or night.