C-Section Drama: Jill Duggar & Derick Dillard Deal With Labor Pains In Birth Of Baby Israel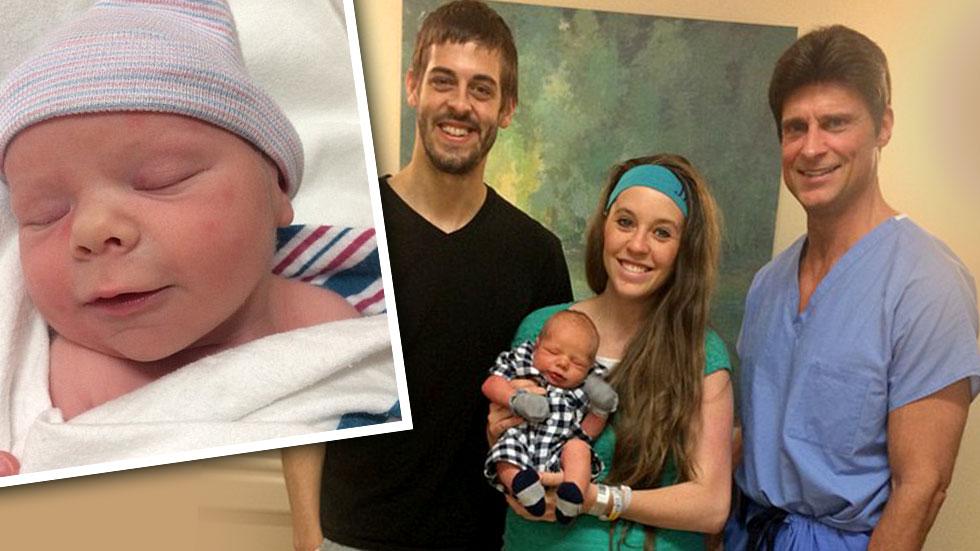 Jill Duggar and Derick Dillard's childbirth complications, in welcoming their son Israel, were the focal point of 19 Kids and Counting Tuesday.
And fans finally saw all the hour-by-hour drama, which showed Jill's problem-plagued 70-hour labor before they had their child in the hospital via cesarean section April 6.
At 11 days past her due date, Jill told the cameras, "It's 3:43 in the morning and I woke up to go to the bathroom and my water broke."
Article continues below advertisement
She told the cameras, "I was really nervous, okay, this is for real."
Eventually, with her labor pains intense, Michelle, Jana and a student midwife named Rachel were summoned to the Dillard home, but after 24 hours in labor, Jill felt things were irregular.
Watch the video on RadarOnline.com
"With my water being broke, you don't want to introduce infection," Jill said, contemplating a hospital birth.
After 48 hours in labor, Jill (herself a student midwife) said, "I went to the bathroom and noticed some meconium staining on my pad and usually that is a sign of fetal distress in the baby.
"It was more mild so it's like, okay, he's not doing too well but it's not emergency at this point but we felt like … it would be a good time to get to the hospital."
Once she got there, Jill had contractions and looked flushed as Dillard stayed right by her side.
Article continues below advertisement
Looking at a sonogram, the doctor showed Jill that the baby's head was in the wrong position.
A shocked Jill said, "You think he's breech? Little stinker."
The doctor advised Jill that her best option was a c-section.
Although she wasn't happy about it, the physician said it had been three days and they had to go for the safe option, and devoted hubby Dillard agreed.
Jim Bob told the other children at home to pray for Jill having her emergency c-section.
MORE ON:
19 Kids and Counting
Dillard was in the delivery room as the baby came out crying and he even helped the doctor to clean his son with forceps.
Weighing 9-pounds, 10-ounces, Israel thrilled Jill -- she held him for the first time as Dillard gave her a kiss.
"This is the little guy -- big guy -- I've wanted to see for nine months," she said. "He's worth every contraction, every pain that I had."
Four days later, they left the hospital and dropped by the Duggar home to show off the baby.
Article continues below advertisement
"Can we have another one?" Dillard asked Jill.
"He's adorable ... we've gotta have more," she agreed.
Jill's proud dad Jim Bob Duggar beamed, "This is just the beginning for a lot of children to come."
Also on the 19 Kids special, Michelle and Jim Bob decided to give Jill and Dillard a special baby gift: seizure-prone 5-year-old daughter Josie's old baby crib.
"We don't need a crib in our house anymore," Michelle, 48, said sadly.
"We would love more babies if God saw fit," she said, but admitted that hadn't happened in a long time, so they were ready to give away Josie's baby bed.
Later, Jill noted it was bittersweet for her mother giving away the crib but all hope wasn't lost: "She could have a surprise baby. I've heard about that."
Also on the show, Michelle taught her little daughters the proper way to hold a baby so they could help Jill. But incredibly, Jill has herself come under fire for the way she's carried the baby, as RadarOnline.com has reported.
Michelle recalled how some of her own deliveries got "scary and serious," saying she'd had an emergency c-section for her first set of twins.
Also, she remembered how the family rallied around little 19th kid Josie, born at just 25 weeks; daughter Jessa said they were stronger because of the crisis.
19 Kids and Counting airs on TLC Tuesdays at 9/8c.