Yolanda Foster 'Uncomfortable' With Some Of Her 'Pit Bull' Castmates, Reveals Extent Of Her Lyme Disease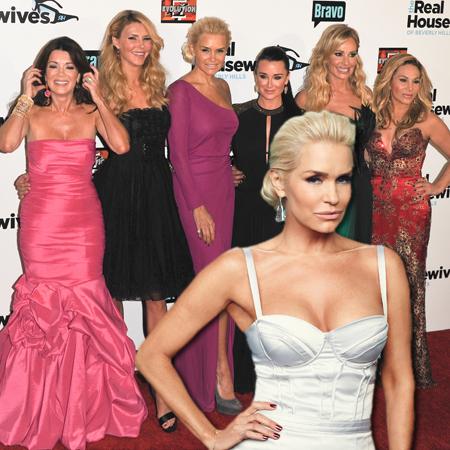 It comes as little surprise Yolanda Foster has been oil to the water of some of her privileged peers on The Real Housewives of Beverly Hills, and in her new Bravo blog, she calls some of them "Pit Bulls" while admitting she has little in common with the bunch.
The Holland-born beauty admitted that she was hesitant to take even a sip of alcohol at Adrienne Maloof's recent bash for her vodka line Zing, because she's admittedly uncomfortable to let her "guard down amongst this feisty group."
Article continues below advertisement
Yolanda wrote that once at the bash, she saw through "what these adult women with their high school antics were trying to do, which was clearly throwing Brandi Glanville under the bus" using her past against her.
She focused her ire toward peripheral players Marisa Zanuck and Faye Resnick, writing that when they began knocking Brandi, she came to the realization that she's "trapped in a circle with a bunch of women she honestly has little in common with."
She said she was "speechless when Faye inserted herself into our conversation uninvited," and has "never seen anyone behave so rudely and inappropriately.
"I saw how these Pit Bulls treated Brandi last year, and that ain't going to happen as long as this sheriff is in town," Yolanda wrote. "The fact that Faye defines a woman by a Chanel bag is the most pathetic thing I have ever heard."
Watch the video on RadarOnline.com
Article continues below advertisement
Also in the blog, Yolanda gave an update about her battle with Lyme disease, saying she's been struggling with her brain function "the past couple of months" as result of the ailment, and illustrating how it impacts her day-to-day life.
"Most days I stare at a blank page for hours and won't be able to put my thoughts into words," she wrote. "It's so frustrating, because I love writing and putting my thoughts on paper, as it has always been my way of digesting my thoughts and feelings.
"The good thing is I am starting to have good days with clarity, so my future is looking bright. I will continue to pave the way and share my health journey with the world until I find a cure and proper diagnostic testing for this silent killer called Lyme disease."
The Real Housewives of Beverly Hills returns on Bravo Mondays at 8/7c. Part one of the show's explosive reunion special will air immediately after it.