Yolanda Foster Bitter At Kim Richards, Says A 'Good Deed Never Goes Unpunished'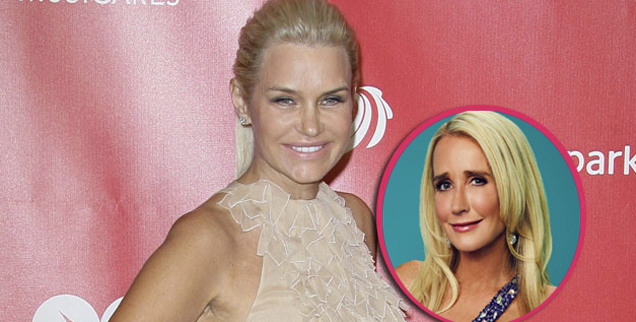 Yolanda Foster comes off quite bitter and resentful toward Kim Richards for an unnamed act of betrayal, as the Dutch model vents about her frustrations about her The Real Housewives of Beverly Hills castmate in a new Bravo blog, and we've got the details for you right here on RadarOnline.com.
"I guess a good deed never goes unpunished," Yolanda passive-aggressively wrote of the recovering alcoholic, who she tried to nurture during the group's trip to France, which aired this past Monday.
Article continues below advertisement
The Holland-born beauty said she "felt the need to be momma bear and keep an eye on Kim" on the trip, "because she could see Kim was struggling and having a tough time.
She said that she was concerned when Kim -- whose self-proclaimed sobriety has been questioned by her castmates -- was late to an appointment with the rest of the cast.
"Kim was obviously having issues, but when I went into her room it was very clear to me that she had overslept and was maybe dealing with a chemical imbalance or a mixture of the wrong medication," Yolanda wrote. "Her room was perfect, and there was not any evidence that she had been drinking."
After trumpeting the time and care she put toward Kim, Yolanda made a reference to a yet-to-be-aired incident between them that happened when the cast returned to the 90210.
"I tried to be a good friend and support her," Yolanda wrote, "but all was forgotten once we were back in L.A. … funny how quickly some people can forget sincere acts of kindness."
Yolanda, who has also had personality clashes with castmates Adrienne Maloof and Taylor Armstrong, admitted she keeps up a heavy guard around the ladies of Rodeo Drive as a defensive mechanism, as she didn't know who to trust coming in.
Fun fact: Kim's niece is fading reality star Paris Hilton.
We'll see exactly what went down when The Real Housewives of Beverly Hills returns on Bravo Mondays at 8/7c.