Brandi Glanville's Heartless Remark Makes Kyle Richards Cry: 'That's The Meanest Thing You Could Say!'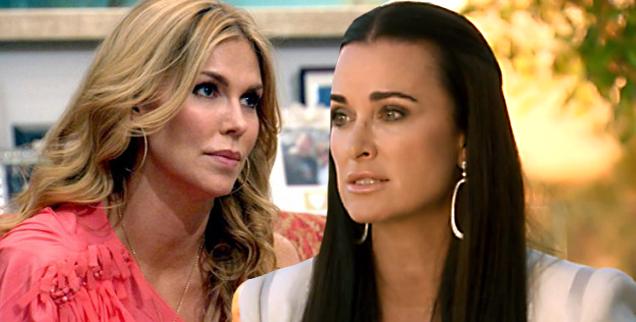 Kyle Richards breaks down crying in part two of The Real Housewives of Beverly Hills reunion special, which airs next Monday on Bravo, after Brandi Glanville makes a heartless comment about Kim Richards' alcoholism, and RadarOnline.com has the shocking clip.
During the explosive reunion, Brandi accused Kyle of "always doubting Kim's sobriety, and I almost feel like it would make her happy if she failed."
Article continues below advertisement
At that point, as the other ladies attempt to interject their opinion, Kyle, visibly upset by the remark, barked: "Hold on, I'm going to speak here.
"You know NOTHING about my history of what I've gone through with my sister, or anything about us," Kyle said, now crying.
"I've spent every (bleep) night of my life… every single night saying a prayer to God to keep my sister sober. First to get her sober, and now to keep her sober. That is the MEANEST thing you could say," she continued.
"I'm not trying to be mean," Brandi replied.
"Well it is!," Kyle snapped back.
Brandi then attempts to defend herself by saying, "All I'm saying is that when I watch it back, every time, it seems everyone's rooting for Kim, and Kyle's like…"
"No one is rooting for my sister more than me," Kyle said.
This is not the first time Brandi and Kyle have found themselves at odds with each other. As we previously reported, Kyle recently called Brandi "disgusting" for calling her fellow Real Housewives the "c-word."
Part two of The Real Housewives of Beverly Hills reunion special airs next Monday, April 1 at 8 p.m. ET on Bravo.
Watch the preview of part one here: