It's A Miracle! Woman Pulled Alive From Rubble Of Bangladesh Factory – 17 Days After Collapse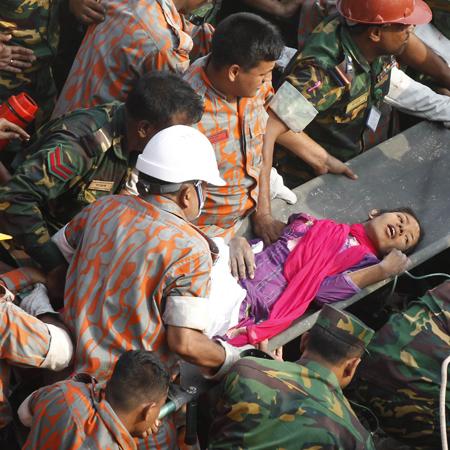 In the wake of so much recent tragic news – the Boston bombings, the massive explosion at a Texas fertilizer plant, the House of Horrors in Cleveland, we bring you some good news: On Friday, rescuers miraculously pulled a seamstress – alive -- out of the rubble of a Bangladesh garment factory 17 days after it collapsed, killing more than 1,000 people.
Hundreds of people burst into cheers and applauded as army engineers rescued the woman from the basement of the factory after a workman cutting iron rods told rescue workers that he heard faint cries coming from beneath the tons of rubble.
Article continues below advertisement
"I heard a faint voice saying 'Save me, Save me'," the workman, Mohammad Rubel Rana, told Reuters television.
The survivor -- identified by Bangladeshi media as a woman named Reshma -- was gently lifted out of the rubble on a stretcher, then put into an ambulance and rushed to the hospital.
Amazingly, Reshma was in such good shape she was able to walk, according to one rescuer. She said she survived on dried food and bottled water.
"I heard voices of the rescue workers for the past several days. I kept hitting the wreckage with sticks and rods just to attract their attention," Reshma told the private Somoy TV from her hospital bed as doctors and nurses cared for her.
"No one heard me. It was so bad for me. I never dreamed I'd see the daylight again," she said.
"There was some dried food around me. I ate the dried food for 15 days. The last two days I had nothing but water. I used to drink only a limited quantity of water to save it. I had some bottles of water around me," Reshma said.
Article continues below advertisement
She is believed to have been in a Muslim prayer room in the basement of the building, which had oxygen and enough clear space for her to stand up.
Five clothing factories had operated inside the building, called Rana Plaza, and more than 3,000 people were believed to be working when the 8-story factory collapsed on the morning of April 24 – only a day after its owner assured factory owners and news crews it would stand for "a century".
Officials have confirmed at least 1,045 were killed in the horrific collapse, and the search for more victims continues Friday.
It is now considered the worst disaster in the history of the garment industry.