Huge Deadly Explosion At Texas Fertilizer Plant – 7 Latest Developments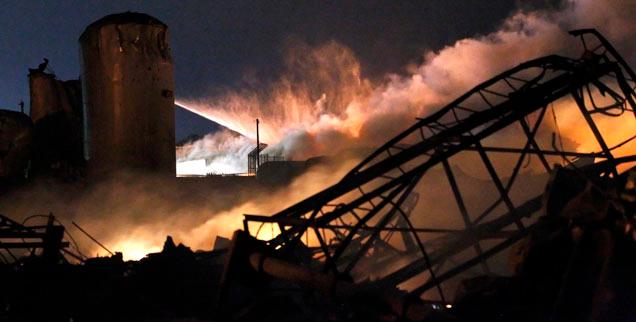 Emergency personnel remain on the scene of a massive fire at a fertilizer plant in West, Texas, which is about 20 miles north of Waco. Officials say the fire broke out around 7:30 p.m. CT Wednesday. Twenty five minutes later -- at 7:55 p.m. CT -- a massive explosion rocked the plant. Here are the latest 7 developments in this still developing story.
1 - Deaths & Injuries
It's not known at this time how many people were killed in the explosion, but early Thursday, Sgt. William Patrick Swanton of the Waco, Texas, Police Department estimated there were between 5 to 15 fatalities from the fertilizer plant explosion -- but that number could dramatically rise. Authorities say some 160 persons were taken to area hospitals for treatment, and that more than 100 patients have lacerations, broken bones, and burn injuries. Dozens are in critical or serious condition. Children are among the injured. Officials are going door to door looking for victims. Half of the town's 2600 residents were forced to evacuate, including about 133 people from a nearby nursing home.
Article continues below advertisement
2 - Missing Firefighters
Authorities say several firefighters who were fighting the massive fire are missing as of early Thursday. Officials could not provide a specific number, however. Many of the firefighters fighting the fire were volunteers. Officials also say that one law enforcement officer - a police constable who was also a volunteer firefighter - is hospitalized in critical condition.
3 - Widespread Damage
Authorities say between 50-60 homes and businesses sustained heavy damage from the explosion and that many windows from nearby buildings were blown out. A 50-unit apartment building was leveled. Adding to the difficulty in fighting the massive fire – winds in the area are 30-35 miles per hour, which is only serving to fan the flames.
(WARNING: Video Contains Strong Language)
4 - Accident Or Crime?
As per protocol in this type of situation, the fire and explosive is being treated as a crime scene, although at this time, authorities say they have no reason to believe it was deliberately set.
Article continues below advertisement
5 - The Power Of The Explosion
The explosion registered as 2.1 magnitude quake according the USGS. Residents some 50 miles away said they actually felt the quake.
"It was like a nuclear bomb went off," West Mayor Tommy Muska said. "Big old mushroom cloud."
"Massive. Just like Iraq. Just like the Murray Building in Oklahoma City… So you can imagine what kind of damage we're looking at," Texas Department of Public Safety trooper D.L. Wilson said in describing the huge blast.
6 - Continuing Danger From Blast
ABC Chief Health and Medical Editor Dr. Richard Besser says a continuing danger from the Texas fertilizer plant explosion and fire is exposure to ammonia.
"What you see with high level ammonia exposure is damage to your eyes, to your throat, to your nose, to your esophagus when you swallow," Besser told ABC News Radio. "A blast that's going in one direction, if you get a change in the wind, it can come to another neighborhood and be affected."
Article continues below advertisement
7 - Outpouring Of Love
Overnight, Texas Gov. Rick Perry released a statement on the explosion in West, Texas: "We are monitoring developments and gathering information as details continue to emerge about this incident. We have also mobilized state resources to help local authorities. Our thoughts and prayers are with the people of West, and the first responders on the scene."
Pope Francis is also among the many people expressing their sympathy in wake of the explosion. The Pontiff tweeted on his official Twitter account, "Please join me in praying for the victims of the explosion in Texas and their families."
radar_embed service=5min.com src="http://pshared.5min.com/Scripts/PlayerSeed.js?sid=1126&width=570&height=351&playList=517749033&sequential=1&shuffle=0"