Whistle While You Walk! 'Compulsive Whistler' Jailed For Disorderly Conduct Strikes Unique Deal With City Officials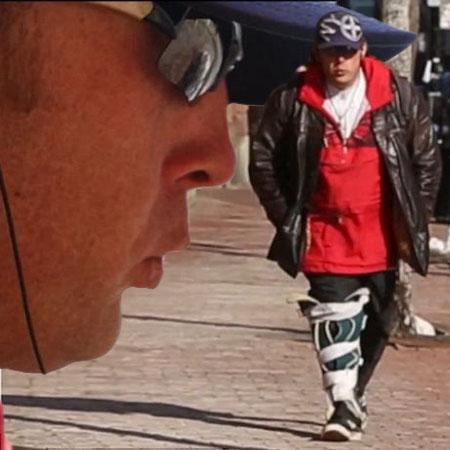 A Portland man charged with disorderly conduct for whistling in the street has reached a deal with the city so he can continue to whistle as long as he continues to move, RadarOnline.com is reporting.
Robert Smith, 32, from Maine, was cited by police twice in one year after businesses in the downtown area began to complain about the piercing noise.
Last summer, he pleaded guilty and arranged a deal that allows him to continue whistling – but only if he doesn't linger in the same spot!
Article continues below advertisement
Smith claims that his whistling is protected free speech, and he says passers-by normally respond with a polite smile. However, city officials weren't convinced.
According to the Portland Press Herald, Smith, known as "The Whistler" works in construction during the summer. Other times, he can be seen wandering around the city between 9 a.m. and 5 p.m.
He's so famous he's become a cult figure in his hometown, and he appears in blogs, videos and local media. But being a persistent whistler has its drawbacks.
"It just got to the point last summer where the complaints just mounted. He's so loud," Trish McAllister, a Portland prosecutor told the Herald.
"The judge and I viewed this as a behavioral issue. (The Whistler) was aggressive. He would follow people who gave him a wrong look."
PDD Executive Director Janis Beitzer said: "Just like if somebody plays an instrument in front of your business or has the radio on constantly, it's irritating."
MORE ON:
Celebrity Justice
Article continues below advertisement
Back in May 2012, Smith received a summons for disorderly conduct. He was arrested and jailed two months later. On August 22, he pleaded guilty to the charge and agreed "to curb disorderly behavior (loud whistling) in the future," according to court papers.
The agreement states that he is banned from whistling while standing still. Instead, Smith must remain on the move, and authorities won't bother him.
"You can arrest me a thousand times, and the day I walk out of this jail, I'll be whistling out the door." Smith told the Herald he warned the police.
Smith claims his art of loud whistling was a gift from God. "God is showing me what I'm doing is OK. He shows me every day with laughter," he said.
"I'm not out here to be the best whistler in the world. I'm just trying to make people smile.
"I'm doing it because of the reward it gives me. My goal is if someday I can walk down the streets of Portland, and I can see 20 or 30 people whistling along, doing the same thing I'm doing, well then I will be a happy camper. I'll know I did something right."
Arguing that the First Amendment protects his constitutional rights to whistle, Smith said: "All I'm doing is expressing myself freely."
"People who express themselves freely should be held in the highest regard, not the lowest regard."