Real Housewives of Orange County: Vicki Gunvalson's Verbal Gaffe; Tamra Barney Calls Her A 'Bleep'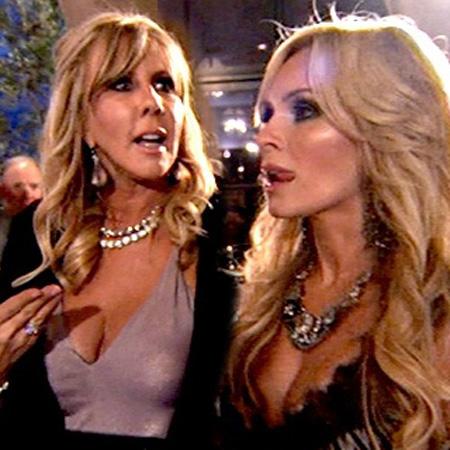 Vicki Gunvalson was again the main attraction Monday night's episode of Real Housewives of Orange County, as the show's original cast member -- "The O.G. From the O.C.," as Andy Cohen says -- stirred up plenty of controversy with both her words and actions.
The hysterics came on a trip to Malibu with the other housewives (sans the persona non grata Alexis Bellino) to sample wines for her endeavor with Tamra Barney, Wines by Wives.
Article continues below advertisement
Vicki's first gaffe came at Malibu's Cielo Vineyards, when the middle-aged owner of the establishment introduced himself and his daughter, Lauren.
Things got uncomfortable in a hurry when the jowly Coto de Caza, Calif. native remarked, "I kind of though maybe you guys were a couple and you really robbed the cradle," leaving the man, his daughter and the cast all looking like they'd rather be somewhere else.
Vicki said, "I figured, like, 'What are you guys?' -- cause you're lovey and dovey and touching and holding," she said, before taking another inappropriate dig at the daughter Lauren, telling her she looked much older than her 24 years.
"Thanks, I think," the classy girl said, while castmate Tamra was more succinct in appraising the situation: "Maybe Vicki should just not talk."
Later on, Tamra let Vicki have it after she abruptly left her wine duties in Malibu for a dinner outing in Los Angeles, calling her castmate a "b**ch" for abandoning the endeavor she put a lot of time and effort into, to which Vicki looked on, stunned.
Afterwards, at a dinner with her fiancé Eddie Judge, an introspective Tamra said that "Vicki was a b***h, and Vicki should have participated," at the same time admitting her own shortcomings as a communicator.
Watch the video on RadarOnline.com
The Real Housewives of Orange County airs on Bravo Mondays at 9/8c.