During Dinner Party Clash, Vicki Gunvalson Tells Lauri Peterson, 'I Have No Respect For You!'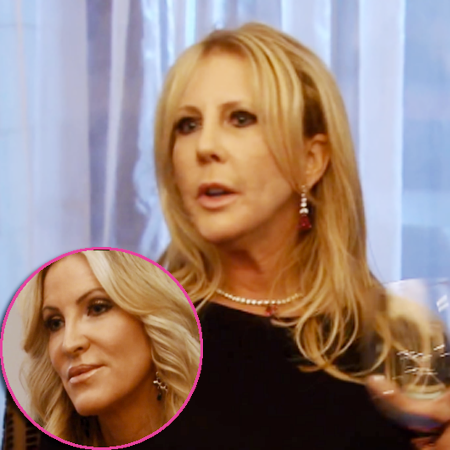 The long-running feud between Vicki Gunvalson and Lauri Peterson hit a crescendo on Monday's edition of The Real Housewives of Orange County, as viewers learned why Lauri's had it out for Vicki in her second go-round on the show.
This week's episode picked up where last week's left off, with the ladies enjoying a Canadian ski retreat in Vancouver, B.C., as the privileged women sat down for dinner.
Vicki explained, in an off-camera confessional, that years ago, she received an email about Lauri's husband George Peterson from the man's former mother-in-law, who claimed he was a "terrible guy" and urged Vicki "to keep Lauri away from him."
Article continues below advertisement
Vicki sent the e-mail to a mutual friend, and it quickly circulated among their circle of friends -- actions Lauri said in her Bravo blog "to be malicious, evil, and vicious," and effectively ending their friendship.
When Lauri returned this year, as payback, she leaked a series of embarrassing revelations about Vicki and her former beau Brooks Ayers.
On Monday, after Lauri called Brooks "too good to be true," Vicki blew her stack at the dinner table, telling Lauri, "I really have nothing to say to you, Lauri.
"You and I are never gonna be friends, I have no respect for you that you would do this, and I wish the best for you and George," she said. "Have a nice life!"
Lauri shot back at Vicki, "You were internationally trying to ruin my relationship with George," to which Vicki said, "Eight years later, and you're not over it!"
Lauri confirmed she wasn't over it, since she and Vicki have never "discussed it."
Article continues below advertisement
"Well, get over it," Vicki hollered before storming out out of the dining room. "Kumbaya!"
Later, Lauri said off-camera, "Vickie's the liar right now -- I mean, to have her project that onto me? Come on!"
Watch the video on RadarOnline.com
Later, the two ladies seemed in better spirits during a snowball fight, when Vicki playfully pegged her rival with clumps of snow, spurring castmate Lydia McLaughlin to declare, "Call it Canadian magic, but maybe all we needed was a snowball fight to get along!"
The Real Housewives of Orange County airs on Bravo Monday at 9/8c.