Tracy Morgan Crash: Actor 'Critical But Stable,' As Accident Sheds Light On Trucking Industry's Possible Dangers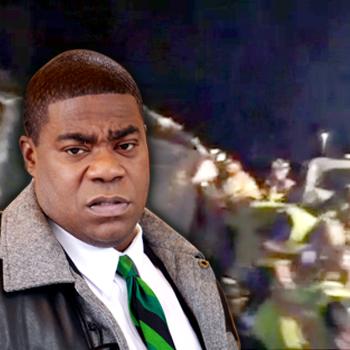 Article continues below advertisement
The timing of the Morgan crash dovetails with laws on trucker work schedules under investigation by Congress, as trucking and industrial organizations are hoping to increase the number of potential hours a trucker can work in a week to 82, up from the current maximum of 70.
Federal Motor Carrier Safety administrators said that tired drivers account for a large chunk of the 4,000 annual deaths brought on by trucking accidents.
Watch the video on RadarOnline.com
Industrial safety proponents such as Joan Claybrook, an ex-leader of the National Highway Traffic Safety Administration, said that the celebrity connection to this specific incident might help bring awareness to their cause.
"This is a major moment really to stop the trucking industry," Claybrook said. "It seems no matter what we do in terms of pushing to get safer trucks on highways, the trucking industry uses its clout to either undo those improvements that we do get or stops any that we're trying to push."
Article continues below advertisement
The 35-mile stretch of the New Jersey Turnpike has also been under analysis, as an widening project stunted traffic, but New Jersey Turnpike Authority spokesman Tom Feeney said that there hasn't been a spike in accidents with the five-year renovation undertaking underway.
/p>
Comedian James "Jimmy Mack" McNair, 62, died in the accident while the star's associates Jeffrey Millea, 36, and Ardie Fuqua Jr., 43, were both left in critical condition. Comedian Harris Stanton was hurt in the accident, but later related from the hospital.
We'll keep you updated on the latest in this story, right here on Radar.