'RHOA': Kandi Burruss' Fiancé Todd Tucker Threatens To Leave Her, Because Of Mama Joyce's Sick Setup Plot!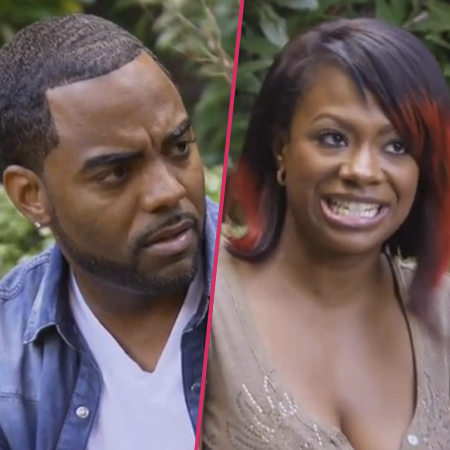 As RadarOnline.com readers know, the famously-disapproving mother of Kandi Burruss doesn't like her daughter's fiancé, Todd Tucker, one bit, considering him an opportunist.
And on Sunday's episode of The Real Housewives of Atlanta, after hearing how Mama Joyce was plotting against him, Todd gave Kandi an ultimatum, saying he might just walk away if Kandi didn't follow her own path!
Todd hit the roof when he learned Mama Joyce was apparently involved in a plot to put him in a compromising position with another woman so that he would look like a cheater. And then Kandi's Mama Joyce planned to pay someone to get a picture of it!
Article continues below advertisement
Todd told Kandi incredulously about Mama Joyce's actions, saying, "I don't really have any respect for your mom! When your mom talking about setting me up, 'Take pictures of him,' f*** that!"
Watch the video on RadarOnline.com
As Kandi tried to make an excuse for her mother, Todd said, "Your mama continues to mind f*** you and if you don't check that, she'll continue to run this relationship, run this house, run your business and everything else.
"Even for me, it's only a certain amount of time before I'm going to feel like, you know what? I love you babe, but we can be friends."
A shocked Kandi said, "So you're saying you're leaving me?"
Todd replied, "I'm saying that it may be an option."
Kandi began to cry and defend her mother, saying SHE would never leave her.
But Todd said no man was going to be in her life if she would continue to let Mama Joyce disrespect them.
Article continues below advertisement
In confessional, Kandi told viewers, "I'm torn: I love my mom, but I don't think she 'gets' that by hurting Todd, she's hurting me, too."
Todd and the music producer's assistant, Carmon, urged Kandi to go to counseling to deal with her mother issues -- and she agreed.
Also on the episode, Kandi and Todd were auditioning actors for her upcoming play about her life as a Mama's girl.
And Porsha Stewart went out for the role of Kandi's character's little sister.
Article continues below advertisement
She hoped to get back in the good graces of her co-star, who had blamed her for starting the RHOA brawl at NeNe's pillow talk party.
At a roller derby event Kenya set up for the gals, however, NeNe didn't even show up!
"I apologize here to everybody if I escalated the situation" at the pillow talk party, Kenya admitted to the others, while wondering why NeNe was giving her the cold shoulder.
Later, when NeNe visited Cynthia Bailey, NeNe said she didn't know anything about Kenya's party --because she hadn't received the invitation.
"You do not have a charity event for someone and don't call them," NeNe said in confessional.
Cynthia called Kenya and told her she needed to contact NeNe directly.
But Kenya claimed NeNe had definitely opened her Evite.
She told the cameras NeNe was carrying a grudge!
At the party, NeNe arrived because Cynthia had nudged her about it. But then she quickly walked away from Kenya.
"Why even show up? It's not a good look for you, sweetheart," Kenya told the cameras.
Article continues below advertisement
Although the event, which featured a bachelor auction, raised money for NeNe's favorite charity, the RHOA alpha dog sniffed, "It's not honoring me."
She got even more upset when Kenya called her up to the mic for a speech.
NeNe took the microphone and thanked Saving Our Daughters, "one of many charities I've worked with," and then ungraciously walked away.
Kenya termed her performance "pathetic."
Peter Thomas told wife Cynthia he wanted to leave because he was angry at NeNe for disrespecting the charity.
"You went up there and everyone felt the tension," Peter then told NeNe directly.
Watch the video on RadarOnline.com
NeNe said, "What you are doing is trying to put this s*** on me! I'm walking into something blind. Kenya didn't tell me s***."
But Peter said she should have been graceful about it.
"It's not about Kenya. It's about the charity event!" he shouted.
NeNe said angrily that he was placing the blame on her.
"I regret showing up 100 percent," NeNe concluded.