Teresa Giudice: 'Our Family Can Fix' Ongoing Issues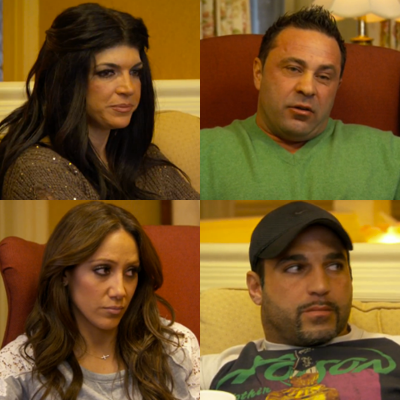 Article continues below advertisement
"It felt great being hugged by my brother," Teresa told viewers. "I got up and hugged Melissa and it felt good."
Suprisingly, Dr. V. told Andy she hadn't even seen the brawl between the two Joes that occured at the family healing retreat at a Lake George area inn. "I hadn't seen the fight," Dr. V. said. "In fact, I haven't really seen anything on the Jersey housewives. That put me in a unique position to come in with a completely clean slate."
As fans saw, Dr. V. was able to convince Teresa, her husband Joe Giudice, her brother Joe Gorga, and Joe's wife Melissa to talk and come to a meeting of minds.
"I was so touched by what I had seen," Dr. V. said. 'It really made me realize, this family knows what they're doing. They know how to make peace -- because they were problem solving without me. They just needed some freedom and space."
"She spoke Juicy Joe's language," Teresa smiled of her husband.
Article continues below advertisement
As Andy pointed out, others on the RHONJ have criticized Teresa for never owning up to her own mistakes. But on Sunday's show, she did. Dr. V. said, "I met a very whole-hearted and vulnerable person. I was very inspired when I left that castle, by the entire family's love and care and courage."
Although Dr. V admitted Melissa "was a little guarded," she said the other housewife in the famous feud had a reason to be!
And a trace of the old Teresa came up when Andy tried to get her to give Caroline Manzo some credit for showing up at the retreat and helping her family. Teresa said the issues were resolved by the time Caroline arrived at the inn!
Dr. V. said, though, "She was helping all of us. She was invaluable in this experience."
Dr. V. also pointed out that Joe Giudice gave Teresa permission to let the Gorga grudge go.
Article continues below advertisement
"I know my husband's a sweetheart," Teresa said of Juicy Joe, who has been accused of cheating and is embroiled in legal problems over a driver's license issue.
Also during the talk show, Teresa also laughed about Rich Wakile grabbing sister-in-law Rosie Pierri's breasts during a drunken dinner at the Lake George retreat mansion.
"I wouldn't want my brother-in-law grabbing my boobs!" she said.
Teresa revealed she had a hunch her brother Joe was using black tar to cover a bald spot on his head, as revealed on last week's episode. Those who tried to separate the battling Joes were covered in the hair dye.
"I had a feeling," she told Andy. "But at first, I didn't. I thought it was the rug. I thought, that rug was really dirty!"
When a caller to the show asked what Teresa would do differently if she could go back in time, Teresa said, "I would have never stopped the communication with my brother. I wanted to keep the communication going with him and he would always say to me, 'call my wife, call my wife, call my wife.' I should have insisted and just kept calling him and kept it with HIM. If we would have kept the communication, I don't think it would have ever gotten to where it got."
Article continues below advertisement
Dr. V. hopes Melissa and Teresa will stop using Twitter and the internet to vent about against each other.
Teresa said of the first blog that Melissa put out she felt, "Are you kidding me? Why are you ripping me to shreds?"
"I think in-person communication is the best thing," Dr. V. said.
Meanwhile, Teresa insisted of Melissa, "I never ripped on her. I never did."
Watch the video on RadarOnline.com
Teresa and Joe shared "sexy time" at the inn, drinking champagne in their bathtub as aired on the show. But it wasn't too revealing after all! "I had a strapless bra on," she revealed.
To end the show, Andy presented Dr. V. with the "New Jersey peace prize" for her efforts -- a leopard print olive branch!