Teresa & Joe Giudice 'Going Down'! Nancy Grace Says They'll Be Thrown Behind Bars On WWHL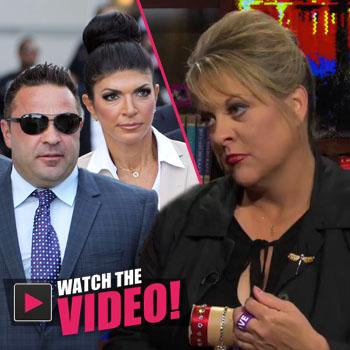 Article continues below advertisement
GALLERY: The Giudice's 30 Most Shocking Quotes About Fraud & Finances
"I think that they are founded, sadly for the franchise."
The Giudices have been charged with 39 counts of tax evasion and fraud and are facing 50 years behind bars, and Nancy said she doesn't see them avoiding jail time.
"I think they were in it together and you know what? You can get away with shoplifting, maybe stealing a car but don't mess with the feds when it comes to money. Never mess with the tax man. Never mess with the feds alright? They have no mercy.
"I predict they're going down," she told Andy Cohen and explained why she believes they'll end up incarcerated.
"Much as Martha Stewart was used I think they will be used as an example to other people."
Andy tried to defend Teresa, but Nancy quickly dismissed him.
"She told me she absolutely had no idea," the WWHL host pleaded on Teresa's behalf.
"Did she sign her name on those documents?" Nancy asked him and he replied "Yes," but when she asked "Did they get money? From loans? Bank loans etc. from signing those documents?" he pled the fifth.
Do you think Nancy Grace is right? Are Teresa and Joe Giudice going to jail? Tell us in comments.