Exclusive
What Is Their Body Language Saying? The Giudices 'Are Scared To Death' Of Prison And Teresa Is 'Falling Apart'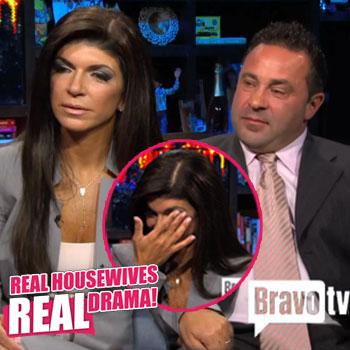 Article continues below advertisement
"The Giudices' body language says they are scared to death. They showed multiple signals of deception on Watch What Happens Live," Dr. Glass said.
"Joe's laughing and joking about the prison sentence being 100 years, masks his true feelings of terror at what may be in store for him. His smile is not genuine as he smiles through clenched teeth. Then he quickly leaks out his true feelings as he looks down and mumbles."
Indeed, Teresa did show signs of emotion during the interview but told Cohen she needs to stay strong for the sake of her kids — but her strong front isn't fooling anyone, the expert says.
"When Teresa says, 'I can't fall apart. I have my daughters,' her eye blinking and stammering may reveal that the opposite is true…that behind the cameras she may very well be falling apart," Dr. Glass told RadarOnline.com.
MORE ON:
Celebrity Justice
Article continues below advertisement
"Her swallowing her words, looking up, and the pitch break in her voice shows she is not as strong as she says, and is very much afraid."
As RadarOnline.com previously reported, Teresa and Joe were indicted on 39 counts of conspiracy to commit mail and wire fraud, bank fraud, lying on loan applications and bankruptcy fraud. Joe is also being charged with failure to file tax returns for 2004 through 2008.
On loan applications, Teresa and Joe allegedly made up fake jobs and salaries to get larger loans. They also allegedly used fake documents in a conspiracy to get mortgages and loans they did not deserve.
So are they faking their strong front, too? Sound off in comments below…