Teresa Giudice Gets Choked Up Over Fraud Charges: 'I Can't Fall Apart… Why Is This Happening To Me?'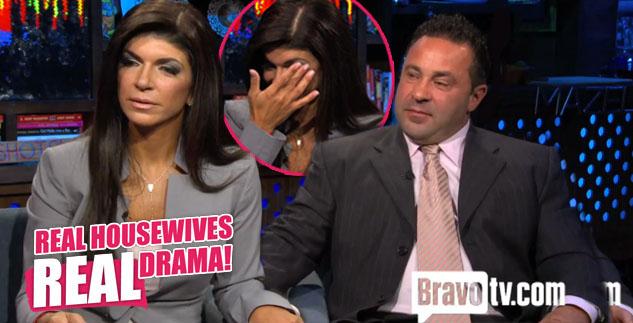 Joe and Teresa Giudice are putting up a united front despite their 39-count indictment and fraud charges, and during an emotional appearance on Watch What Happens Live Teresa revealed she will stay strong for her daughters, but questioned why this is happening to their family — and RadarOnline.com has your sneak peek.
The Real Housewives of New Jersey couple have pled not guilty to the charges, but face 50 years each in prison if convicted.
Article continues below advertisement
"I can't fall apart, Andy," Teresa tells host Andy Cohen.
GALLERY: The Giudice's 30 Most Shocking Quotes About Fraud & Finances
"I have my daughters. I mean, they mean the world to me."
It's the first time Joe and Teresa have spoken publicly about their legal battle.
"Maybe out of all this…I don't know, I mean there's like…you go through things in life, I mean I don't know why. I'm asking like, why is this happening to me?" Teresa tells Cohen as she gets choked up.
"So maybe something my daughters can learn from this is, my mom was really strong through all this, she was there for us, and I hope they always have that there with them."
When I heard that these charges carry a maximum of 50 years in prison…" Cohen said.
"I thought it was 100," Joe chimed in, appearing to take the situation lightly.
To catch the full special, tune in on Sunday, Sept. 29 at 8PM ET/PT.