New Low: Adam Lind Brought Daughters Around Sex Offender Pal Charged With Preying On Teen Girl
On this week's episode of Teen Mom 2, Chelsea Houska's wayward ex, Adam Lind, brought his two young daughters to Sky Zone trampoline park with his two adult pals, Mirza and Bruce.
But what seemed like an innocent play date could have turned much more sinister, as RadarOnline.com has learned that Lind, 26, brought his girls— Houska's 6-year-old daughter, Aubree, and baby mama #2 Taylor Halbur's 2-year-old daughter, Paislee— around a repeat sex offender who was charged just last month with multiple counts of sexual exploitation and distributing pornography to minors.
Article continues below advertisement
According to South Dakota's Minnehaha County Circuit Court documents exclusively obtained by Radar, Lind's friend, Bruce William Crawford, forced a penis picture onto an unsuspecting 17-year-old female cashier at a sporting goods store in Sioux Falls on March 5.
READ THE SHOCKING COURT DOCUMENTS
While checking out at the register, Crawford, 25, then allegedly "swiped the penis photo onto his cell phone that was set on the counter directly in front of his crotch area," investigator Robert Forster wrote in his affidavit in support of arrest warrant. "As the transaction continued, the suspect presented cash to the victim directly over the penis photograph and in front of his crotch area to depict the picture as an extension of his body."
The creep allegedly refused to move the photo throughout his interaction with the teen victim.
In a sick twist, Crawford was seen with "two small children" during the exchange.
The cashier was "upset and shocked," the officer claimed, adding that Crawford told her "By the way, it's ten inches."
The next day, the girl's coworker called police, who set out to find the unknown suspect.
The Sioux Falls Police Department was able to identify Crawford thanks to calls from good Samaritans after cops released a clear photo of him from the sporting goods store's surveillance video.
Article continues below advertisement
According to a local South Dakota news report, police believe Crawford has preyed on more victims.
"If somebody has had contact with him and maybe received some pictures or saw a picture they didn't want, we want them to call police," the department's public information officer said.
He was arrested on March 8, and indicted on three felony counts of sexual exploitation, one misdemeanor count of distributing harmful materials, or pornography, to minors, and two misdemeanor counts of obscene and lewd phone calls.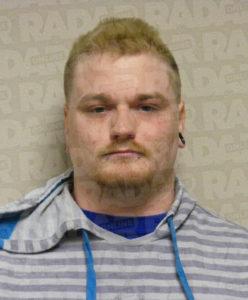 According to the National Sex Offender Registry, he remains incarcerated. He is eligible for release if he posts a $50,000 cash bond.
Crawford's next court date is April 22.
Perhaps not so surprising, Crawford is a repeat offender. The troubled man was previously convicted of indecent exposure in 2008, according to South Dakota's sex offender website.
Lind has not yet responded to Radar's calls for comment. He currently has visitation rights with Aubree and Paislee on weekends, but it's not yet known if the arrangement will change in light of Lind's shocking decision to bring the girls around his troubled friend.