Taylor Armstrong's Fiance John Bluher Slams Farrah Abraham On Couples Therapy: 'She Just Pukes Out Words'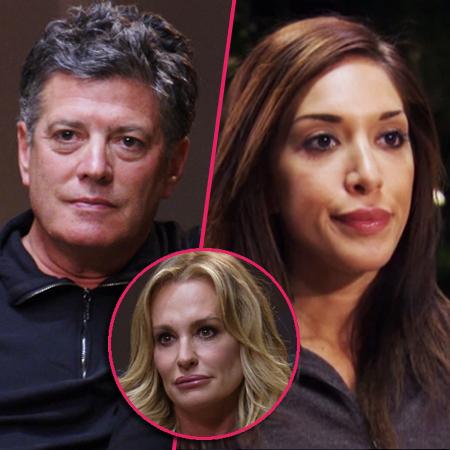 Article continues below advertisement
Viewers have seen Abraham being shunned in the Couples Therapy house as the rest of the reality show stars, including Armstrong, Bluher, Jon Gosselin, girlfriend Liz Jannetta, and The Real L Word couple Whitney Mixter and Sada Bettencourt all doubt her claim that her sex tape was leaked instead of done professionally.
Watch the video on RadarOnline.com
And former The Real Housewives of Beverly Hills star Armstrong scoffed behind Abraham's back, "She dresses like a nun every single day because she's trying to portray something she's really not!
"The ballet flats and the floral skirts are not working for me," she said. "I smell a f*cking rat a mile away."
Later, however, Abraham told the show psychologist Dr. Jenn Berman that she couldn't speak openly to her co-stars on camera because of legal issues involving her sex tape.
Article continues below advertisement
Abraham started to cry, "I signed some s**t away that I'm f***ing against. I can't even talk about it. I signed this huge contract."
Dr. Berman assured her if they had a session off-camera, Abraham could tell her all and said she'd take "it to the grave." The cameramen left the room.
In group therapy the next morning, Dr. Berman told the cameras, "After her private session with me and everything she shared, I'll never look at Farrah the same way again. I need everyone to really understand how serious her situation is."
Dr. Berman told the others, starting to get choked up, "Some people have felt that Farrah wasn't revealing things and wasn't being totally authentic especially when the issue has come up about her tape and the things that Farrah shared with me are some of the most horrific I think I've ever heard in my life as a therapist. They're things that make me wonder how Farrah possibly has the strength that she has at 22 … it just made me respect her so much."
Article continues below advertisement
So did Abraham tell Dr. Berman the same things she later alleged to In Touch, such as that her parents brutally abused her? It was left unclear to viewers.
But Bluher blasted Abraham, saying he knew she was not telling them the truth about the tape. Worse, the attorney said, "My inability to connect with her is that I think she lives in a bubble and I don't think she listens to anyone."
As Farrah scowled, Bluher told Dr. Berman, "I don't care about anything she has to say."
Then Mixter also slammed the porn star, telling Abraham, "You're being so vague, and who knows what this elephant in the room is?"
The Real L Word star added, "Some people have smelled bullsh*t on some of the things she's had to say since day one."
Turning to Abraham, Mixter fumed, "What's true and what's not true? You're on here solo -- this is Couples Therapy and now, not only do you NOT have a couple to sort out your couples issue, you seem to have a situation which is gigantic in your life that you can't talk about.
"So now it's just like, you're just a chick in the room!"
Abraham said vaguely, starting to sob, "I have a lot to lose. I would tell you the truth if I could."
"Legally she cannot," Dr. Berman informed the group.
And that was how the matter stood -- at least until Couples Therapy resumes next week!
Meanwhile, as RadarOnline.com reported, Vivid Entertainment announced this week that they are releasing a sequel to Abraham's notorious sex tape Backdoor Teen Mom called Farrah 2: Backdoor and More.