Couples Therapy Finale: Taylor Armstrong's Fiancé John Bluher Will Adopt Her 'Tyrant' Tot, Kennedy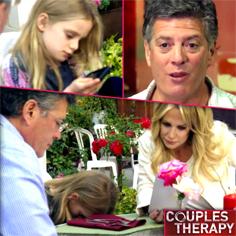 Former Real Housewives of Beverly Hills star Taylor Armstrong got an emotional surprise on Thursday night's Couples Therapy when her fiancé John Bluher handed her papers showing he intended to adopt her 8-year-old daughter, Kennedy.
Taylor, who as reality TV fans well know, showed her troubled family life with her late husband Russell, Kennedy's father, on RHOBH. After she filed for divorce from him in 2011, and said he had abused her, Russell killed himself shortly thereafter.
Article continues below advertisement
In 2012, she made a fresh start with attorney John. She accepted his marriage proposal last year, and although they haven't wed yet, on Thursday's Couples Therapy finale on VH1, John showed he wants to be Kennedy's legal dad!
The lawyer said he had something "really cool," for Taylor, 42, in a binder, at which point she joked, "Is this a prenup?"
But he presented Taylor with the adoption paperwork for Kennedy, and the former RHOBH star burst into tears!
"I want her to be my daughter," a choked up John told Taylor as they hugged on camera in front of their Couples Therapy co-stars, including Jon Gosselin and Farrah Abraham.
"There could be no better father for Kennedy," Taylor sobbed.
And she also told him, "You make me feel safe and protected, but you don't make me feel afraid.
"I cannot wait to be your wife."
But as earlier scenes on the Couples Therapy episode showed, it won't be easy for them to co-parent spoiled and willful Kennedy!
Article continues below advertisement
"She's a handful. She can be very manipulative and she knows how to press Taylor's buttons," John sighed to VH1's cameras.
The Craziest & Most Outrageous Celebrity Rumors — What's True, What's Not?
When the three went out to breakfast together on a break from the Couples Therapy house, John made Kennedy sit between them and confiscated the little girl's smart phone.
"She can get pretty much everything she wants with me," Taylor told the cameras.
John said she needs to get a handle on disciplining her daughter.
Taylor admitted Kennedy "can be a tyrant" who wore her down and said the nanny should do her chores!
And John said he was reluctant to step in to discipline Kennedy because he didn't want her to resent him.
Show therapist Dr. Jenn Berman told Taylor, "She does not have structure at home. You are the parent and you are in charge."
Watch the video on RadarOnline.com
Article continues below advertisement
TV Shows - Full Episode Video - Reality TV Shows
She predicted Kennedy would be "a highly anxious kid," unless Taylor got a handle on it.
Also on the show finale, viewers also saw Jon Gosselin present his girlfriend Liz Jannetta with a NON-engagement ring!
He wasn't going to pop the question, but the father-of-eight bought Liz a ring to honor their time together.
"I learned a lot about myself. I can't wait to start our life over again," he said, sliding a little box across the table to her over dinner.
"It's my promise that I'll get engaged to you," Jon said. "This is more of a commitment ring."
Liz put on the diamond sparkler and said she was trying not to cry, adding, "You're so cute. Thank you," as Jon winked at her.
"I love you," she said.
"I can picture myself married to him," Liz told the cameras.
Jon, who has complained all season about his ex-wife Kate Gosselin, and even had a staged phone call with her, as RadarOnline.com has reported, told Liz that he had a new confidence after undergoing couples therapy.
Article continues below advertisement
But viewers had to wonder if anything was real for Jon, who, according to RadarOnline.com sources, had shopped around for a girlfriend to appear on the show with him before settling on Liz!
And speaking of fake, Farrah Abraham, at Dr. Jenn's direction, ended her Couples Therapy experience by going on a date with a young man named Ryan, from the Plenty of Fish web site.
Ryan greeted Farrah with a rose, but then things went downhill fast for the Teen Mom -turned-porn star on the date!
The father of a 3-year-old son, Ryan said he was going to move back in with his mom -- and began complaining about his ex-girlfriend: "She pulled me down. She's out there partying."
Faked Scenes, Lies & Payoffs – The Ultimate Guide To Reality TV Shows
Ryan claimed to take the moral high ground instead of other people because, "Everyone wants to f*** b***hes The girls are just as bad as the guys."
And then he showed his true colors when he started hinting that he wanted Farrah to talk about her porn career.
Article continues below advertisement
Ryan started laughing and said he used to work in Chatsworth for a subsidiary of Playboy and even went to the Playboy mansion for a party.
"I will NEVER be at that mansion," said Farrah, who has long improbably claimed her Vivid Entertainment porn movie was a personal tape that was leaked.
She whined to Dr. Jenn of her date, "That laugh was so fake. I fell like he's secretly laughing at me."
The therapist agreed that Ryan wanted her to talk about the sex tape.
Although he told the cameras, "I could definitely see a future with Farrah," the Backdoor Teen Mom star and her psychologist laughed that wasn't going to happen.
Watch the video on RadarOnline.com
Dr. Jenn said that she was working too hard on the date.
"You have to say 'ouch' when someone hits you," she told Farrah.
The former Teen Mom who appeared on Couples Therapy alone after DJ Brian Dawe said he'd refused to have a fake TV relationship with her said she felt the show gave her the skills to move forward in relationships.