Tamron Hall Talks About Sister's Brutal Murder In Emotional Interview With Nephew
Tamron Hall broke down in tears when talking about her sister's murder during an interview with her nephew, Leroy Moore III.
This Wednesday, October 2, she had Leroy as a guest on her NBC talk show, making it the first time the star's nephew has ever publicly discussed his mom's death.
"She was the life of the party," Tamron, 49, started, remembering Renate.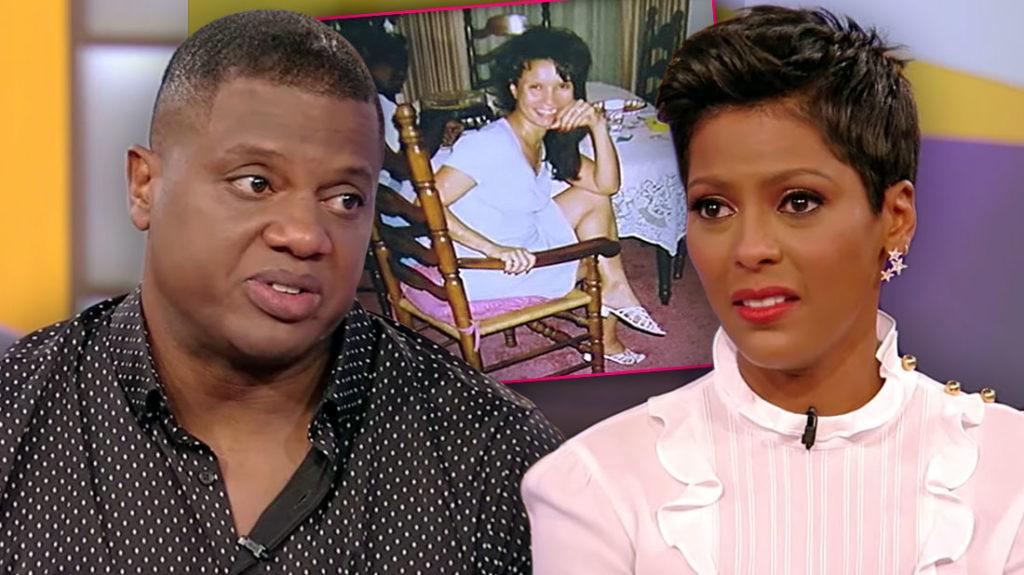 "She was this effortless energy of love and to lose her — and you were very young — what was that like for you, what do you believe was taken from you?" she asked Leroy.
Article continues below advertisement
"Everything, I mean she was my mom," he answered.
RadarOnline.com readers know that in 2004 Renate was found beaten to death, floating face down in the small backyard pool inside her Houston, Texas home. Her horrific murder came after years of her being involved in romantic relationships with abusive men.
"I had to own my mom's death is what I had to do," Leroy said through tears, adding that "there was times when I didn't say something that I should have."
"When I look back she would call me and ask, 'Hey can you make it down for the weekend?' and every time I drove down there would always be tension in the household and that's kinda when I look back I realize she was calling me down there to avert that tension that was in the household," he recalled.
New mom Tamron also shared her struggle with her sister's killing — a crime which has still not been solved.
Article continues below advertisement
"I carried much guilt for many years believing I had abandoned my sister and that I was more worried about career than family," she said holding back tears.
She added that after years of grieving, she is "so proud" of nephew Leroy for moving past his pain and uniting with Safe Horizon to help others. Tamron and her nephew have teamed up with the non-profit organization to put an end to domestic violence.
"Being quiet is not masculine," Leroy said, voicing his message towards violent men. "It doesn't make you a man cause you don't say anything. It doesn't make you a man because you don't stand up. If you're the one that's committing the violence you gotta stand up and say 'I wanna do better,' or 'I'm wrong.'"
"Just saying 'I'm wrong' is sometimes enough to make you realize you gotta do work,'" he added. "Own it and do the work to be a better person."
"I feel like I'm about to pass out. This is the hardest thing to discuss publicly because we did not talk about it. We never discussed it because I didn't know what to say," Tamron told him.
"I didn't talk about my mom's death for a long time and I kind of just shoved it away for 10 years and I really just woke up one morning and I had to own it," Leroy said.
"She would be incredibly proud of you," Tamron told him, wiping her tears.