'RHOC' Rivalry Explodes: Tamra Calls Vicki 'Trash' In Bitter Battle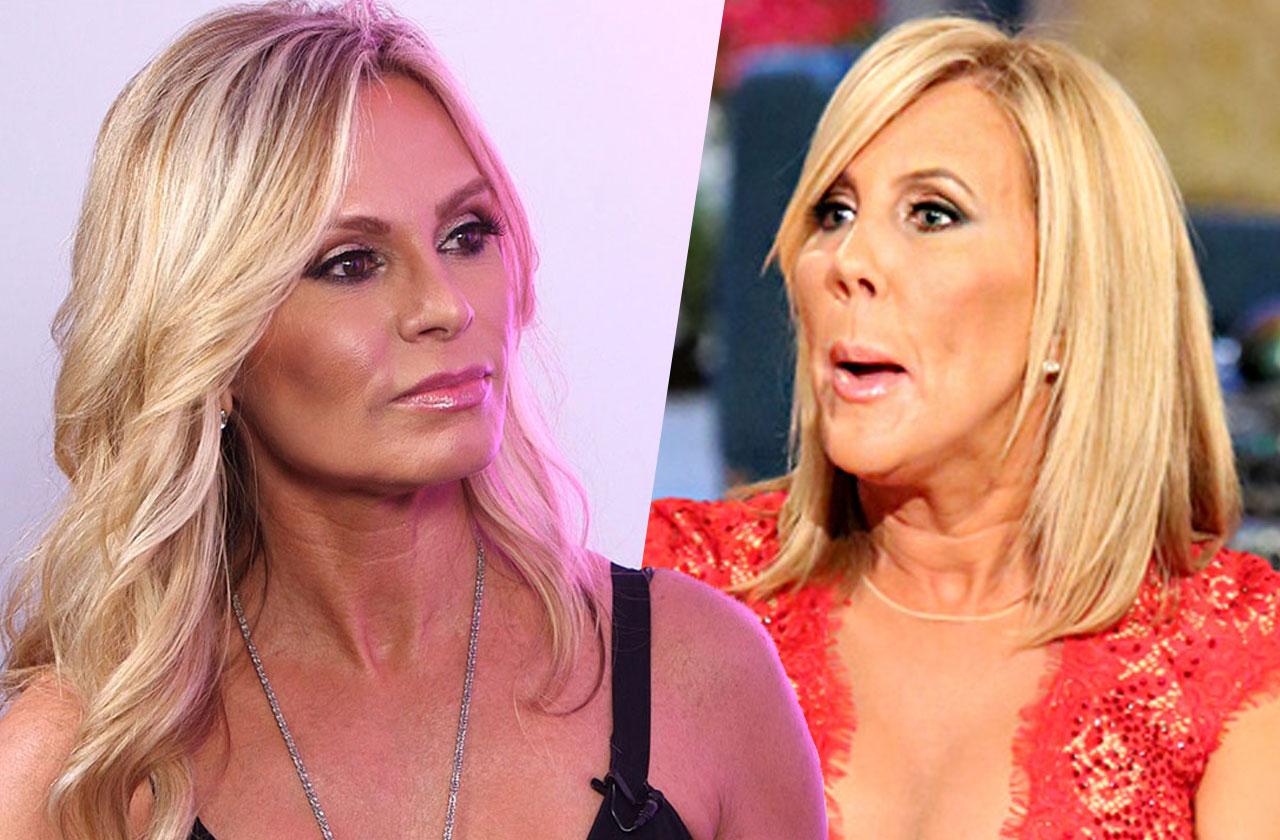 Article continues below advertisement
But she admits that she misses her friends. "I'm in a good place in my life," Gunvalson says. "I've cleaned up my problems. I'm hopeful that the people who were in my life that are not in my life will come back."
When Meghan King Edmonds invites Gunvalson to her "sip and see" baby party, the OG of the OC assures her "I won't throw any wine."
Edmonds, however, still doesn't buy Gunvalson's innocent act. "We are ok," she says about her, but "She can't apologize anymore, she wants to play the victim."
The attention then flashes to Judge and Beador. As they shop for Edmonds' baby present, they can't help but discuss how they're going to act when they see Gunvalson at the party.
"I wish I could be fake but I can't. So I'll just say hello," she tells Judge, who is stunned by her tone. "It was the way you said it, it was like f*** you! Creepy! She looks like Hannibal Lecter."
Beador then tells Judge that she is ready to make up with Kelly Dodd, after their disastrous fight at the Quiet Woman. "I don't think I've ever met anyone that can be as vicious as Kelly," Beador admits. "The reaction she pulls out of me is something I'm not used to. And I don't like it. This seeing red stuff has to stop," she says, as the screen flashes to the moment she angrily threw a plate at Dodd inside the restaurant.
Article continues below advertisement
In a TMI moment, Gunvalson asks Dodd about her vaginal rejuvenation surgery. "It was crusty and itchy and on fire the first day," Dodd says about her private parts. "Now it is fine. I haven't had sex, not even with a vibrator."
The ladies then go back to bickering.
Dodd prepares to meet with Judge and Beador to make amends, but she is skeptical. "Shannon never apologizes nor takes ownership of anything. So I'm going to have to take ownership so we can move forward."
At their meeting at a juice shop, Dodd tells Beador "I wasn't antagonizing you," at the Quiet Woman. "When you saw me, I was taken aback by how you were pissed off."
"I felt a little bit attacked," Beador admits, and then they make up. Then Dodd brings up Gunvalson, just to amp up the drama.
"I am angry with myself that I let what she put out there affect me. David has done a lot of things, but he doesn't beat me. If we're going to move forward I just want to make sure that the nastiness is done," Beador admits.
Article continues below advertisement
The day of the sip and see finally arrives and Gunvalson and Dodd have a few cocktails before the event. Dodd then tells her that Beador gossiped: "Vicki said these lies. And it got out there in the universe."
Gunvalson is taken aback, referencing David Beador's abuse of his wife, she says, "Lies? Lies? I have text messages and pictures!"
Dodd also stokes the fire by telling Gunvalson "she said you're the reason why she's heavy!" Gunvalson is incredulous at the suggestion.
"This is a sip and see for Aspen," Lydia McLaughlin says, "but let's be honest. It's a sip ad see for Tamra and Vicki."
Judge and Beador manage to completely avoid Gunvalson at the party, but things still get ugly.
"Fancy seeing you here Vicki," Judge quips in her confessional. "Hey what's up, b**ch? Lied much lately?"
As Judge and Beador arrive and ignore them, Gunvalson tells Peggy Sulahian, Dodd and McLaughlin "We have to be classy ladies and move on."
Article continues below advertisement
They never do talk to each other at the party, and Gunvalson says "They are not making an effort, so I am not making an effort."
Beador is chowing down food while Judge and Gunvalson are knocking back drinks.
Sulahian observes: "Clearly there's a lot of hurt between the women. Petty things don't get to me. It's called maturity."
After Gunvalson and Dodd leave, Edmonds, Beador and Judge gossip. "I can be in the same room as Vicki. I don't feel anger; I don't feel like I miss her. I just miss her," Beador states, but Gunvalson doesn't share her sentiments.
"I'm so over the bullsh*t with myself and Tamra and Shannon. Let's be cordial. Let's be adults. I'm done trying to pussyfoot around this. Hit it head on or go home," she says in her confessional.
Judge is not nearly as gracious as Beador. "I have zero respect for that woman. I don't care to be in the same room with her. I have 10 years with her. So somebody is talking rumors about your family it's just sick. It shows character. She's an extremely insecure f***ing b***h."
Article continues below advertisement
Gunvalson and Dodd share a car home and Gunvalson hides her mouth as she says something in a whisper, which Dodd replies to with "the mumu," clearly being mean about Beador's weight gain.
Edmonds tells Beardor and Judge that Gunvalson told her they "hurt her," which enrages them.
"Are you f***ing kidding me?" Judge asks and Beador says "They say I was in on a cancer scam imitating Gunvalson."
"You were," Judge insists about Gunvalson complicity with Brooks Ayers' cancer scam.
"Vicki is so set on her delusional view of the world that nothing anyone can say or do will change her mind," Beador says, and Judge agrees.
"She's trash. She's like the f***ing sh** on the bottom of my shoe."
Gunvalson is adamant that she has been wronged. "They know I'm a great friend. I want them to know that they can't do this to people. They can't be bullies and try to conquer and divide. I want to punch them for not being my friend."
The episode ends with Edmonds making a catty comment about Gunvalson. "How does she sleep at night? Or is that why she looks so old?" Judge then yells "That's why she looks so haggard!"
Stay with Radar for weekly recaps of the insane drama inside The Real Housewives of Orange County!
We pay for juicy info! Do you have a story for RadarOnline.com? Email us at tips@radaronline.com, or call us at (866) ON-RADAR (667-2327) any time, day or night.