'It Was The Car She Wanted': Elderly Woman Smashed In Incident With Sexy Surfer Thinks She Survived Carjacking Attempt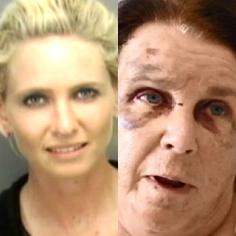 The 73-year-old woman hit by a stunning surfer Jill Hansen, in an incident making national news coverage, believes her alleged attacker's motives were not rage, but theft.
"I parked in my normal parking place and I got out, and all of a sudden I woke up in an ambulance," Elizabeth Conklin, who is recovering at a Honolulu hospital after she was thrown 20 feet upon impact of being hit, told ABC News. "She saw my car, it was the car she wanted, she followed me and was going to kill me to get the car."
Article continues below advertisement
Conklin said a Good Samaritan named Chris Khory "totally saved my life" after smashing Hansen's back window as she primed to strike Conklin with the vehicle again, prompting Hansen to flee the scene.
Watch the video on RadarOnline.com
Hansen wrote on her Facebook page the day of the incident: "I am becoming a professional (surfer)! I have worked SOOOO hard to get to today. I am so grateful for all the support of the surfers and the ASP Association of Surfing Professionals."
As we previously reported, 30-year-old Hansen remains in custody on $1 million bail on attempted murder changes after authorities said she smashed the elderly woman with the automobile.
We'll keep you updated on the latest in this story, right here on Radar.