Sexy Blonde Pro Surfer Jill Hansen Arrested For Attempted Murder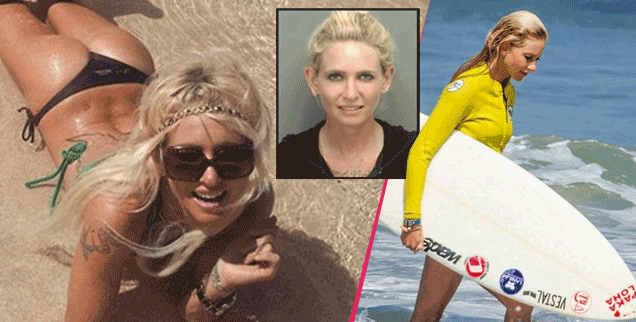 In a story that could be an episode of Hawaii Five-O, pro surfer Jill Hansen has been arrested and charged with attempted murder following a bizarre road rage incident in Honolulu.
The sexy 30-year-old blonde, who sports a number of tattoos, had an exchange with 73-year-old Elizabeth Conklin somewhere on the city's streets and then followed the senior citizen back to the condominium building where she lives in the Diamond Head neighborhood.
Article continues below advertisement
After pulling into the building's garage, Conklin got out of her car and Hansen ran her down, Conklin and an eyewitness told cops.
Hansen then allegedly got out of her car, looked at her victim, jumped back into her vehicle and put it into reverse in an attempt to back over the seriously injured Conklin!
Fortunately she was stopped by Good Samaritan Chris Khory, who works in the building. He grabbed a crowbar and smashed at Hansen's car windows until she stopped and ran from the scene, he told the police.
Hansen fled on foot, leaving her damaged car behind. Cops tracked her down and arrested her just a few hours later on Wednesday.
The surfer, who also calls herself a model, is no stranger to the Honolulu police.
She has a pending third degree assault case in an unrelated matter, and she's been stopped three times for speeding since February, reports the MailOnline.
Hansen is being held in lieu of $1 million bail, reports Hawaii News Now.
Conklin remains hospitalized but is expected to fully recover from her injuries.