Touchdown! Check Out 10 Of The Best Super Bowl Commercials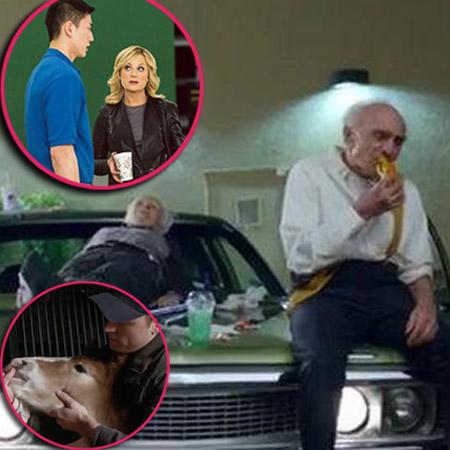 Super Bowl Sunday is not only the biggest stage for quarterbacks and linebackers, but advertisers as well, who put out their flashiest, wittiest and most-expensive work with the year's biggest audience huddled in one place. While some of the clips were unveiled on Youtube prior to the game, here are the spots that have people talking.
10. Doritos' Goat 4 Sale: In this ad, a man buys a goat only to find out it's crazily obsessed with the triangular nacho snacks. All hell is about to break loose when the goat realizes the man, unable to keep with with its' Doritos habit, is preparing a "For Sale" sign for the goat. The clip had more than 1 million Youtube views as of Monday.
Article continues below advertisement
9. Mercedes-Benz's Soul: With plenty of star power, in the form of Willem Dafoe, Kate Upton and Usher, this spot was a super-abridged version of the Devil's Advocate, as a young man dreams of him glamorous future in one of the luxury cars -- at the price of his soul. When he sees that new models start at less than $30,000 he reconsiders selling it, as he can now afford the life-changing ride. The clip had almost 4 million YouTube views as of Monday.
8. Wonderful Pistachios' Get Crackin': It can't hurt your chances to go viral when you have the all-time-viral video king on your side, in South Korean rapper Psy. In this ad for the snack company, the (presumable) one-hit wonder puts a slight twist on his anthem Gangnam Style, singing, "Heeeeyyyy ... crack your nuts now!" So far, the clip has more than 408,000 views in a day, a patch on the record 1.2 BILLION views racked up by the original.
Article continues below advertisement
7. Best Buy's Asking Amy: Celebrities always pack an extra punch into commercials, and Parks and Recreation star Amy Poehler was a smart get for Best Buy, who cast the actress as a rather inquisitive cosutomer peppering a friendly-albeit-overwhelmed salesman with questions such as "What's LTE? Is it contagious? … Does it make you uncomfortable when I use the word dongle? … Are these noise-canceling?" The clip, uploaded Sunday, had more than 75,000 views Monday.
6. Taco Bell's Viva Young: It's Cocoon meets Project X. A group of seniors sneak out of a nursing home for a wild night of hijinks, pranks, clubbing, tattoos and, of course, a late night Taco Bell run, all perfectly underscored to Fun's melodic 2012 anthem, We Are Young. In a week, the rejuvenating ad has racked up 4.8 million views.
youtube
5. Budweiser's Brotherhood: Heartwarming, if not a tad bizarre, this spot featured a man nursing an equine pal from a pony to a full-fledges, Budweiser Clydesdale that eventually leaves to tour with the beer giant's famous troupe of horses. Years after he parts ways with the stallion, the man emerges at a parade, admires the horse, and is just about to leave when his horse pal gallops toward him, and they meet and embrace for a hug. The spot had amassed more than 6 million views in less than five days.
Article continues below advertisement
4. Tide's Miracle Stain: A San Francisco 49ers fan is watching the game with a pal when he drops a tortilla chip on his shirt, and the remaining stain is a picture perfect silhouette of team icon Joe Montana. After an outpouring of affection from starry-eyed San Francisco fans, the now-famous man comes to find his wife -- a Baltimore Ravens fan -- has washed away the magical Montana stain with Tide. The just-uploaded clip has 80,000 views.
3. Samsung's The Next Big Thing: The Jon Favreau-directed clip for the electronics company featured actors Seth Rogen and Paul Rudd awkwardly sitting in a waiting room, prepared to audition for a commercial touting the company's "Next Big Thing." After the two comedy A-listers trade barbs over who embodies the title better, they sit before a company bigwig (played by Breaking Bad's Bob Odenkirk), who eventually passes over both of them for an even bigger celebrity, NBA superstar LeBron James. The clip has more than 2.5 million Youtube views in less than three days.
Article continues below advertisement
2. Volkswagen's Get In, Get Happy: In a new twist on, "What you see isn't what you get," this spot centered around an office worker with a fierce Jamaican accent, spreading his irie vibes through the office as if he were the second coming of Bob Marley. The man, who says he's from Minnesota, then takes a ride with a few co-workers in his VW, where his accent and attitude become infectious. In just more than a week's time, the light-hearted ad has racked up more than 8 million views.
1. Audi's Prom: Like a modern day John Hughes flick, this clip illustrates one teen's coming-of-age moment via his dad's Audi. Emboldened by the luxury automobile, the teen heads to his prom solo, cruises through the city in style, and winds up at the event, where he fearlessly makes out with the prom queen. As her angry date approaches, the clip soon cuts to a shot of the hero, as he's wearing a black eye and big smile. In more than a week, it's racked up more than 7 million views.