Horrifying Attack! Man Throws Innocent Woman On Subway Tracks In Philadelphia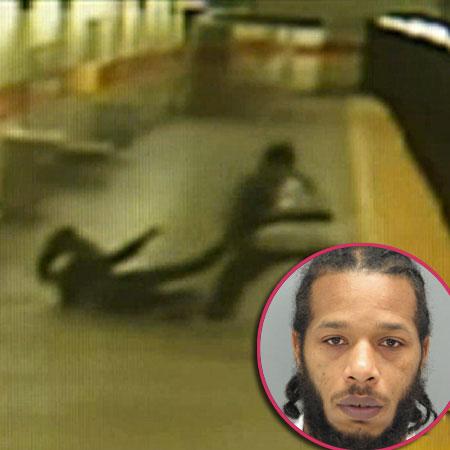 In an apparent random attack, Philadelphia police have arrested a man who allegedly threw a young woman onto the subway tracks at a station in the city's Chinatown neighborhood, and RadarOnline.com has video of the frightening incident, caught on surveillance camera.
Southeastern Pennsylvania Transportation Authority police say the vicious attack happened around 3:30 p.m. Tuesday when the man approached the 23-year-old woman on the subway platform and asked for a cigarette light. Surveillance video shows the suspect then moved closer and began beating her.
Article continues below advertisement
The man then grabbed the woman by her ankles and inexplicably threw her onto the tracks before casually walking away with her cell phone.
Amazingly, she managed to climb up the tracks to the opposite platform, and she escaped with only cuts and bruises.
"By the time I zipped my jacket back up, that's when he was on me, on my neck," the victim, who wished to remain unidentified, told CBS Philly. "I was just telling him, 'I don't have no money,' and he was just like, 'Shut up.'
"I started trying to fight him back, and kick just as much as I could. And he grabbed me by the legs." the woman said. "He seemed fine, he didn't seem like he was crazy."
SEPTA Police Chief Thomas Nestell says the woman is lucky to be alive.
"Thank God she wasn't knocked unconscious in that track area," Nestell said. "It's also good she didn't touch the electrical third rail: "If you touch that third rail, you die."
Article continues below advertisement
Police arrested a suspect, William Clark, around 2:30 p.m. on Thursday, recognizing that he was wearing a unique looking jacket similar to the one seen in the surveillance video. (The distinctive, multi-colored jacket had an image of the Taj Mahal on the back.)
"It was so distinct that we tried to keep the description of that jacket in law-enforcement circles, because it was our best lead on clearing this," transport police Chief Nestel said.
Authorities said Clark has a previous criminal record and that he is mentally challenged.
Officers said the woman's phone was recovered.
Police are catching flak for keeping quiet about the attack for two days and leaving a potentially dangerous suspect at large with no public warning.
Sadly, this is not the first time someone has been pushed onto a subway platform.
In late December, a woman killed a man by pushing him in front of a subway train in New York, and earlier in that same month, a man was killed when he was pushed in front of a train in Times Square.