Sochi, Day 7 Has Highs, Lows, As U.S. Gets Back In Win Column, Worker Breaks Both Legs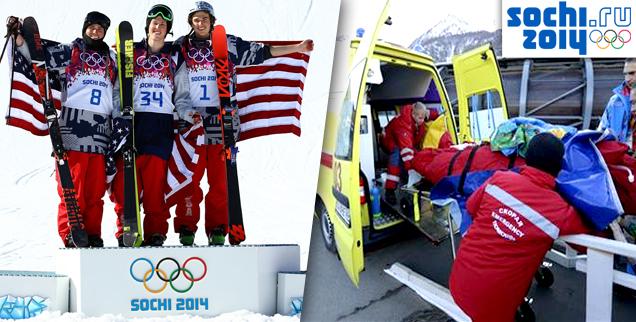 We've got all of Thursday's latest updates from the Winter Olympics in Sochi, right here on RadarOnline.com.
Scoreboard
With two gold medal wins Wednesday, the United States rose from sixth to fourth place, with a total of four gold medals, two silvers, and six bronzes. With six gold medals, a silver and a bronze, Germany leads the pack, followed by Canada and Norway, respectively.
A Much Needed Win
The U.S. men's slopestyle skiing team, made up of Joss Christensen, Gus Kenworthy and Nick Goepper, nailed down the gold, silver and bronze medals respectively Thursday, in a showing that had viewers lauding the talented trio for their skill and showmanship. "America, we did it!" the 22-year-old Christensen said, adding he was "shocked" and "stoked" to be collecting the sport's biggest prize. Goepper said he hoped that the U.S. would gain momentum from the across-the-board triumph, and move up the medal standings. "It's crazy: I think it's going to give the U.S. a lot more confidence," he said, "and it's going to get a lot of people really excited." The trio adorned flags on their backs in the tradition of superheroes following the emotional victory.
Article continues below advertisement
Watch the video on RadarOnline.com
ABC Entertainment News|ABC Business News
Who Let The Dogs Out?
Aside from winning medals, Kenworthy is also rescuing animals in the frigid city, which has many stray critters milling about. The animal-loving ski hunk tweeted a pair of photos of himself and a handful of young canines he's nurtured while representing the red, white and blue. The silver medalist wrote that he "spent all afternoon playing with a gang of stray puppies here in Sochi! Looking into finding a way to bring them home with me but also don't want to take them away from their mama because she was being super cute and protective over them. I bought them some food and I'll go visit them again tomorrow." We think PETA's found its' next new poster boy!
Watch the video on RadarOnline.com
Dangerous Accident
IOC President Thomas Bach said that a male worker was injured to the tune of two broken legs and a possible concussion Thursday, after he was struck by a sled during a practice session at the Sanki Sliding Center. The man was hit near the finish line, Olympic officials said, and airlifted via helicopter to the nearest medical facility. Bach said his office was investigating how the accident might have occurred. In a statement, Sochi authorities explained the nuts and bolts of the unfortunate incident. "According to standard procedure, a warning signal was given ahead of the forerunners' bob beginning its run on the track. The reasons for the icemaker's presence on the track after the warning signal are currently being determined."
Fire On Ice
Idaho native Kaitlyn Farrington, 24, soared past both her Team USA stablemate Kelly Clark, and Australian Torah Bright, to nail down a win in the women's half-pipe, grasping her sport's highest prize with a score of 91.75. The win uncovered a scintillating backstory for the midwesterner, whose mother and father financed her Olympic dreams by selling their cattle supply. Farrignton laughed after the win, "I'm sure they do not miss those cows today."