Exclusive
Massive $60 Million Lawsuit Filed Over Bradley Cooper & Jonah Hill Film 'War Dogs'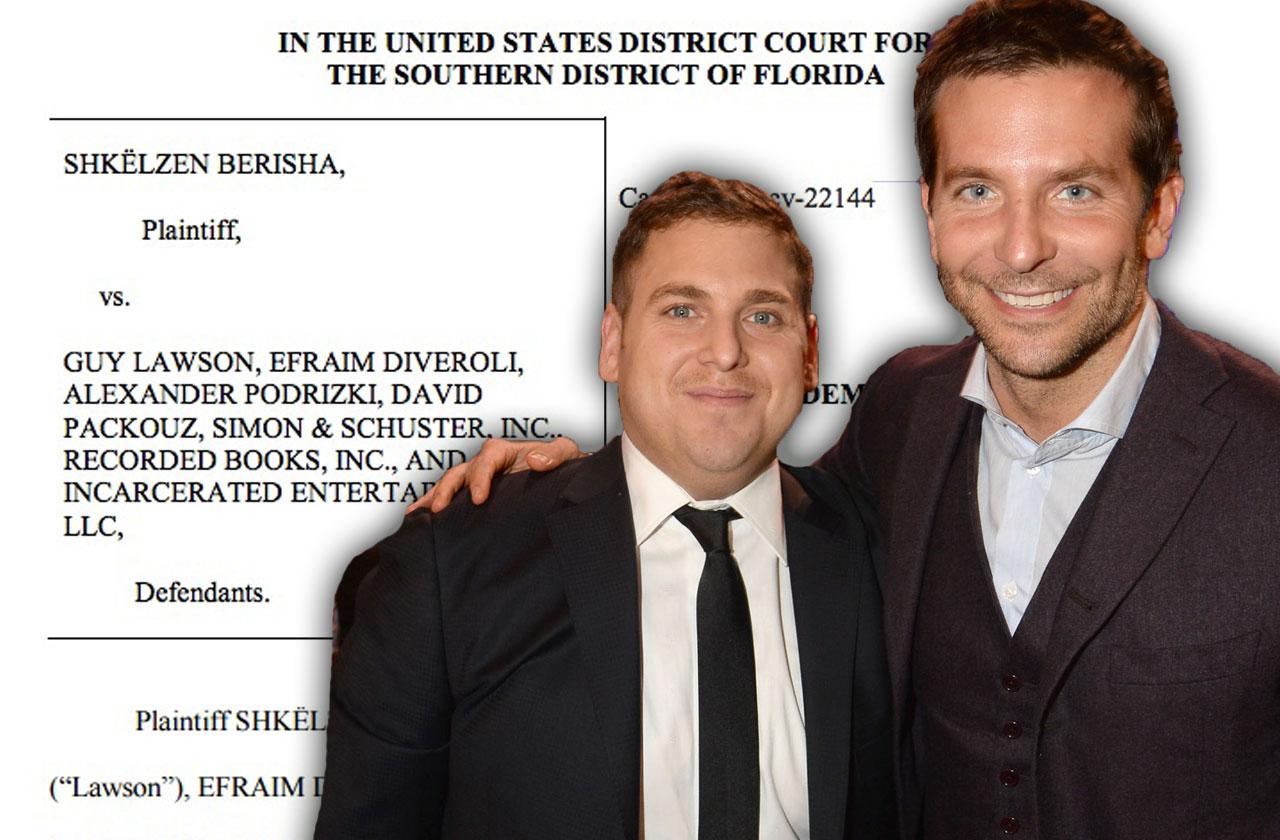 RadarOnline.com can exclusively reveal that Jonah Hill & Bradley Cooper's hit film War Dogs has resulted in a whopping $60 million dollar lawsuit!
Shkëlzen Berisha – son of former President of Albania Sali Berisha – sued author Guy Lawson, former arms dealers David Packouz and Efraim Diveroli, book publisher Simon & Schuster, and Incarcerated Entertainment.
Berisha claimed in court documents that the defendants slandered his name by accusing him of being a mobster in an alleged effort to sell more books and movie tickets.
Article continues below advertisement
Lawson wrote the Rolling Stone article War Dogs: How Three Miami Beach Stoners Became the Most Unlikely Gun Runners in History, which was the basis for the Jonah Hill, Miles Teller and Bradley Cooper's film.
Packouz, played by Teller, and Diveroli, played by Hill, are the former arms dealers that the story is focused on.
Berisha explained that his lawsuit arises from the elaborate deceptions of convicted con men and the slipshod, bad-faith reporting of a so-called investigative journalist. He alleged that War Dogs is fundamentally a story of greed, fraud and the careless pursuit for notoriety, which destroyed his good reputation.
Back in June 2015, Simon & Schuster published the "fantastical tale of international arms dealing" titled Arms and the Dudes: How Three Stoners From Miami Beach Became the Most Unlikely Gunrunners in History. The book was later repackaged in 2016 under the name War Dogs. The story, written by Lawson, detailed how three arms dealers defrauded the United States Government on a military contract worth hundreds of millions of dollars.
Article continues below advertisement
According to the suit, Lawson's primary sources were Packouz and Diveroli, whom Berisha blasted in court documents as "serial liars and convicted frauds," adding, "Mere recitation of their rap sheets though does not convey the breadth and audacity of the deceptions they perpetrated."
Berisha said the men lied to Lawson.
"Nevertheless, Lawson did not have 'research and primary documents' to justify the entire story that he wished to tell," read Berisha's lawsuit. "Not satisfied with a book merely recounting the gunrunning exploits of drug-addled twenty-somethings, Lawson coveted an even 'bigger' story—one of geopolitical intrigue, Albanian 'mafia' and the purported corruption of a prime minister's son."
Berisha alleged in legal documents that the book recounts a supposed meeting that took place with Packouz, Diveroli and Berisha, during which they tried to renegotiate the price of ammunition. Berisha said the idea that he met with the two men is inherently improbable.
Berisha called the account unequivocally false and defamatory and slammed accusations that he received illegal kickbacks in connection with illicit arms dealings, conspired to defraud the U.S. Government, was "part of an extremely dangerous group", and worked with an organized criminal enterprise (i.e., "Albanian mafia")."
Article continues below advertisement
"Yet Mr. Berisha has never been done business with MEICO, Pinari or Delijorgi, nor he 'part of an extremely dangerous group' or associated with 'Albanian mafia'," Berisha's lawsuit reads. "Moreover, he was not involved, in any manner whatsoever, with AEY and he has never been in a room with Diveroli or Podrizki."
"Taken in context, Lawson's references to 'geopolitical intrigue, Albanian mobsters, a shady Swiss arms dealer, and an underhanded conspiracy' and 'the dirty work of arms dealing in the Balkans—the kickbacks and bribes' falsely, and recklessly, accuse the Plaintiff of criminal activity."
Berisha claimed that Lawson — with absolutely no credible evidence — alleged he was involved in criminality. He said due to the author and publisher's reckless actions they elected to destroy his reputation in hopes of selling more books and movie tickets.
Berisha is demanding no less than $60 million dollars in damages along with punitive damages to punish the defendants' reprehensible conduct and to deter it from happening to others in the future, the lawsuit revealed.
Berisha is also seeking an order forcing Simon & Schuster to remove all defamatory language related to him from the book.
We pay for juicy info! Do you have a story for RadarOnline.com? Email us at tips@radaronline.com, or call us at (866) ON-RADAR (667-2327) any time, day or night.