WATCH — Sharon Osbourne On Ozzy Cheating Scandal: 'I Can't Keep Living Like This'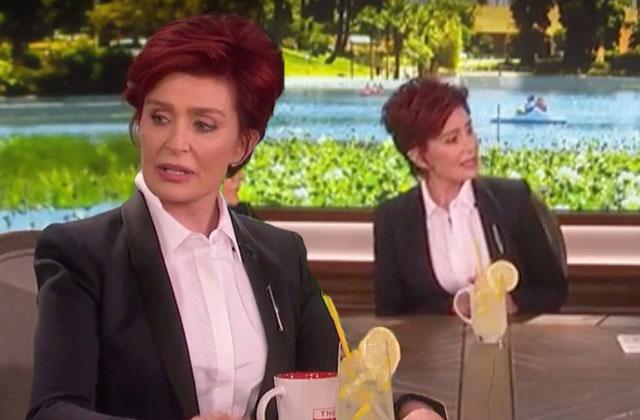 Sharon Osbourne is feeling "empowered" following husband Ozzy's cheating scandal — and she's ready to open up about it too.
On Tuesday's segment of The Talk, the co-host made a valiant return with a large glass of lemonade, an obvious nod to Beyonce.
As RadarOnline.com previously reported, the shocking split announcement came amid reports that Sharon's 67-year-old rocker husband had been having an affair with celebrity hairstylist Michelle Pugh, 45.
Article continues below advertisement
"I honestly am empowered, and I have this inner strength, and I'm like, 'Right, OK, what's next? I can handle this,'" Sharon shared of her current state on the show, adding that she's been "doing great."
The 63-year-old also revealed that she had originally kicked Ozzy out of their Beverly Hills home a few weeks prior, but now "he's back and I'm out of the house."
As for the future, the TV personality confessed that the possibilities are endless.
"I honestly at this point today, have no idea what I'm going to be doing for the rest of my life," she said tearfully. "I don't know where I'm going, who I'm going with, and I just need time to think, and really think about myself — about what do I really want for the rest of my life because this is, like, getting to the last chapter of this book. I really want to think about it carefully, about where I want to go."
Article continues below advertisement
"Because I'm 63 years of age and I can't keep living like this," she added.
When it comes to Ozzy, her partner and husband of 34 years, Sharon admitted that she still thinks of him fondly.
"I love Ozzy dearly," Sharon said. "He's given me unbelievable life, he's given me three gorgeous children. I love him."
The co-host later thanked fans for their support, sharing: "It's honestly given me strength. I'm not going cry about anything, because there's nothing to cry about."
Meanwhile, Sharon received some major support from daughter Kelly, who posted a lemonade-themed selfie on Instagram the same day.
"Guess who's turning lemonades into #lemonade?" she wrote.
What do you think of Ozzy's shocking cheating scandal? Let us know in the comments below!