Bad Medicine! Shannon Beador's Fat-Shaming Trainer Dr. Tim Under Investigation
Ouch! Shannon Beador's fat-shaming trainer Dr. Tim Ramirez was reported for violating state law by performing acupuncture without a license and a secret investigation was opened into the claim against him, RadarOnline.com exclusively learned.
The fitness guru, who had been trying to help the beleaguered Real Housewives of Orange County star drop her 40 excess pounds in the wake of her husband's cheating scandal and blow out with Vicki Gunvalson, was reported for practicing the ancient Chinese healing method without the proper credentials in the state of California.
Article continues below advertisement
A bombshell complaint was filed against Dr.Tim, by a person that wished to remain anonymous, after photographs showing him performing acupuncture were shared on social media.
The California Acupuncture Board opened an investigation into his actions, the organization confirmed in an email from the Board Enforcement Unit dated November 18, 2016, which was obtained by RadarOnline.com.
"The Acupuncture Board is in receipt of your complaint referencing the above individual," the email stated, with a case number and the following information noted: "Tim Ramirez, DC. Unlicensed Practice of Acupuncture."
"We assure you that every complaint we receive is closely examined. However, please be advised the Board only has jurisdiction to take administrative action against those individuals found to be in violation of the laws and regulations relating to the practice of acupuncture. Further, the Board does not have any authority to demand a refund for the dissatisfied services."
The email notification continued, stating: "The allegations of your complaint appeared to be within the Board's jurisdiction therefore warrant an investigation."
Article continues below advertisement
The CA Acupuncture Board confirmed to RadarOnline.com that Dr. Tim Ramirez did not have a license to practice acupuncture, as their website also confirmed.
Beador posted a picture on her Instagram page of her daughter Stella and Dr. Tim giving her acupuncture on November 15, 2016. "Stella has a head cold and @drtim gave her acupuncture on her face for the first time! ? She started breathing better right away! ? #stellaistough#loveacupuncture," she wrote.
A second complaint was filed with the California Board of Chiropractic Examiners for unlicensed practice of acupuncture as well, RadarOnline.com confirmed. Dr. Tim was a certified chiropractor in good standing with the Board.
On December 6, 2016 the person who filed the complaint against Dr. Tim received a letter in response from the Chiropractic Board regarding their claim about Beador's buddy.
"This acknowledges receipt of your complaint against Tim Ramirez, D.C. with the Board of Chiropractic Examiners," the letter reviewed by RadarOnline.com said, and a reference number for the case was provided.
Article continues below advertisement
"The Board assigned your complaint to enforcement staff for review. The Board gives priority attention to complaints containing allegations involving sexual misconduct, fraud, use of drugs or alcohol, or gross negligence/incompetence," the letter explained.
"Expect notification from the Board regarding the outcome of your complaint. The Board observes all due process requirements mandated by the law. If your complaint is referred for investigation, an investigator may contact you. If the investigation substantiates your allegations, the Board may refer your case to the Attorney General's Office for formal disciplinary action. If the case proceeds to administrative hearing, you may be called upon to testify before an administrative law judge."
A shocking Yelp review on the Pacifica Wellness page dated July 27, 2017 praised Dr. Tim for his healing acupuncture.
"Last month my husband had sciatica, he could hardly walk, couldn't sleep and was in a lot of pain," the review wrote. "Dr. Tim went to work with acupuncture, chiropractic and exercise. He totally handled my husband. He sure knows the body and how to make well. We cant recommend him enough."
Article continues below advertisement
Dr. Tim posted a photograph on his Instagram page in February 2016 showing him standing behind a patient with multiple needles in his face and neck and the hashtags #drtim and #acupuncture.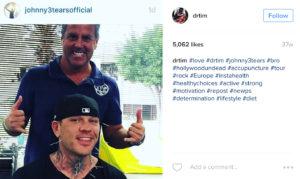 The person who filed the complaint told RadarOnline.com that an investigator contacted them after they received the letter but that they have not received any updates about the case.
The California Chiropractic Board refused to comment on the case when contacted by RadarOnline.com. RadarOnline.com reached out to Dr. Tim for a comment but he did not respond.
The California Acupuncture Board refused to comment on the case but told RadarOnline.com an investigation process could stretch from six months to years.
As RadarOnline.com previously reported, Dr. Tim did not have any disciplinary actions filed against him according to the California Chiropractic Board website.
We pay for juicy info! Do you have a story for RadarOnline.com? Email us at tips@radaronline.com, or call us at 800-344-9598 any time, day or night.