Republican Senator Rob Portman Comes Out In Favor Of Gay Marriage –AFTER His Son Comes Out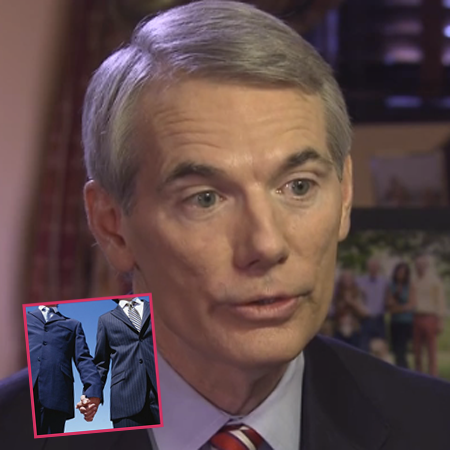 U.S. Senator Rob Portman (R- Ohio) did a major flip-flop Thursday on his longtime opposition to same-sex marriage, saying he now supports it after learning his 21-year-old son, Will, is gay.
"I have come to believe that if two people are prepared to make a lifetime commitment to love and care for each other in good times and in bad, the government shouldn't deny them the opportunity to get married," The Republican Senator wrote in an op-ed published Friday in the Columbus Dispatch.
Article continues below advertisement
"That isn't how I've always felt. As a congressman, and more recently as a senator, I opposed marriage for same-sex couples. Then something happened that led me to think through my position in a much deeper way," Portman added.
Portman said his son, Will, a junior at Yale University, told him and his wife, Jane, that he's gay two years ago and that "it was not a choice, it was who he is and that he had been that way since he could remember."
"It allowed me to think of this issue from a new perspective, and that's of a Dad who loves his son a lot and wants him to have the same opportunities that his brother and sister would have -- to have a relationship like Jane and I have had for over 26 years," Portman told reporters.
Portman -- a devout Christian -- said that before he reversed his long-standing opposition to gay marriage, he consulted clergy members, the Bible, and friends, including former Vice President Dick Cheney, whose daughter Mary is openly gay.
Article continues below advertisement
He said Cheney advised him to "do the right thing, follow your heart."
His decision also comes on the heels of President Obama's major announcement last May that he supports gay marriage -- making him the first sitting U.S. president to make such a statement.
"The overriding message of love and compassion that I take from the Bible, and certainly the Golden Rule, and the fact that I believe we are all created by our maker, that has all influenced me in terms of my change on this issue," Portman said, adding that he feels that "in a way, this strengthens the institution of marriage."
Portman -- who once backed the 1996 Defense of Marriage Act now under review by the U.S. Supreme Court -- said his son didn't prod him to publicly make his change-of-heart, although he "encouraged me."
The Senator says he now thinks parts of the bill should be repealed. However, he says he hasn't considered introducing such legislation himself because he specializes in economic policy issues.
In making his decision, Portman pointed out that nine states and the District of Columbia have legalized same-sex marriage, and that the issue has more support among younger people.
Article continues below advertisement
"I believe in some respects that this is more generational than it is partisan," Portman said.
He said he doesn't know what, if any, political fallout he might encounter, and that he doesn't know of other Republican U.S. senators who share his views on gay marriage.
Portman is a star in the GOP -- he was considered a potential vice presidential candidate to run with Mitt Romney in the last presidential election.
Portman told Romney that his son was gay, the senator said in an interview with CNN that aired Friday.
"I told Mitt Romney everything," Portman said of the vetting process he underwent during the campaign. "That process is, intrusive would be one way to put it. But, no, yeah, I told him everything."
The Romney campaign said that it did not keep him off the ticket because of his son's sexual orientation, Portman told CNN.
Watch the video on RadarOnline.com
Portman, 57, served in the House of Representatives from 1993-2005, representing Ohio's second district. From 2005-2007, he served as United States Trade Ambassador under then president George W. Bush. He was later named Director of the Office of Management and Budget. In 2007, he joined a private law firm, until he returned to politics in 2011 when he was elected to the Senate.