Selena Gomez Jokes About Breakup With Justin Bieber: 'I Made Him Cry'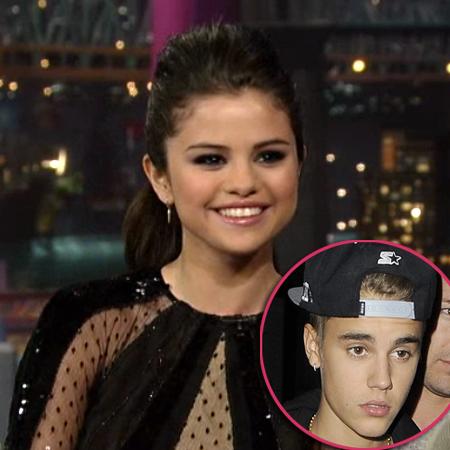 In her first public comments about her split with Justin Bieber, Selena Gomez joked on Monday's Late Show With David Letterman that she made her ex boyfriend cry -- earning her a fist bump from the wry host.
Letterman perfectly set up the lovely Gomez,saying, "Last time you were here, you were with a Justin Bieber. That's not going on now."
The Spring Breakers star, 20, affirmed to Letterman that she and the Biebs, 19, were no longer a couple, replying: "No, I'm single. I'm so good."
Article continues below advertisement
Letterman then cracked, "Now, the last time he was on, he and I got into a conversation and he said something and I said something, and then he said something and I said something, and I made him cry."
Without missing a beat, the former Disney darling then quipped, "Well then, that makes two of us."
Letterman then gave her a fist bump, as the audience howled with laughter.
The couple broke up January after almost two years together, and since then, the Canadian pop star has displayed some erratic behavior, including throwing a temper tantrum at his birthday bash in London, screaming obscenities at photographers, and collapsing on stage.
Watch the video on RadarOnline.
Her new thriller, Spring Breakers -- co-starring James Franco, Vanessa Hudgens, and Ashley Benson – opens Friday, March 22.