Rude Girl Rihanna Flips Out on Fans: 'Back It the F**k Up!'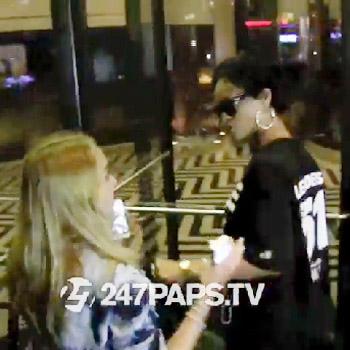 Whether showing up hours late for concerts or cracking an audience member on the head with her mic, Rihanna has always practiced her own particular brand of fan appreciation.
But during a recent visit to New York City, she really ramped up the rude girl attitude, swearing at one group of fans and even getting physical with another.
"Back it up," RiRi snapped at an excited group of fans as she left American Apparel in the West Village on August 19.
Article continues below advertisement
"Back it the f**k up," she barked, giving her fans "the hand."
No words were necessary a week earlier at the city's Gansevoort Park Hotel. Returning after a dinner with on-again BFF Katy Perry and her boyfriend John Mayer, Rihanna simply strolled by a group of fans that had been waiting for hours to see her.
When one fan tried to follow her into the hotel, Rihanna stared her down and pushed her away without a word.
But that kind of attitude seems to be just what her fans crave. After watching Rihanna diss that girl, the rest of the crowd burst out into laughter and applause, with one eyewitness even yelling, "She's so cute!"
Is Rihanna a lovable bad girl or does she have some seriously bad manners? Watch these clips and let us know in the comments!
youtube=https://www.youtube.com/watch?v=hW1L2MscZb0&w=420&h=315