Watch Out, Teresa Giudice! Rosie Pierri Chomps At The Bit And Goes On Expletive Tirade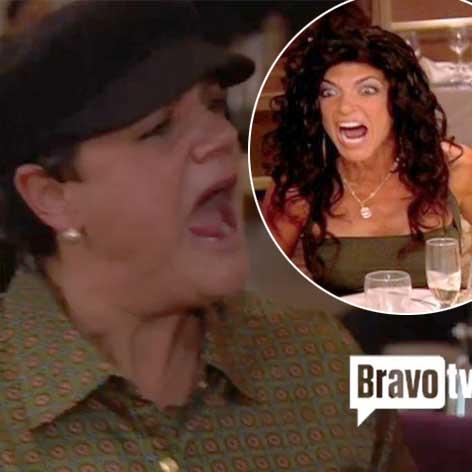 Article continues below advertisement
"I'm stepping off," she continues, referring to the Giudice family feud. "Let her and her brother deal with it on their own. Because I never did sh*t to her but try to be a big sis to her. You know what? I know how to be a big sister. She doesn't have a clue how to be a sister."
Rosie happens to walk up to the couple in the middle of the conversation and asks them what they are talking about.
"I was talking to Caroline and Teresa wants nothing to do with me," Kathy tells her.
Rosie immediately explodes, drawing attention to herself as she rants and raves in the middle of the party.
"F**k it then," she yells. "You know what I say, she doesn't want have nothing to do with you and him. How about we don't wanna have nothing to do with f**king her. How's that f**king sound?"
Richard, who looks uncomfortable at this point, gets up and leaves.
"No speak your f**king mind seriously," Rosie continues. "You know what I'm f**king done with her too. I swear to god. What the f**k. What the f**k did we ever do to her. What, tell me? The piece of what? Here take it up the a** Teresa."
Catch all the action on this week's episode of the Real Housewives of New Jersey, which airs Sundays on Bravo at 8/7c.