Robin Thicke's Hit Single Blurred Lines Tied To Rape Controversy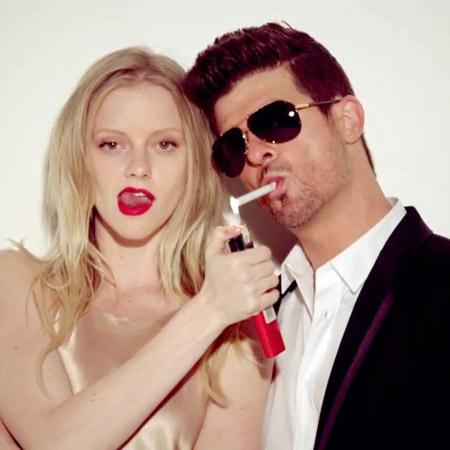 Robin Thicke's smash-hit single Blurred Lines, is getting all kinds of attention, good and bad.
Currently the number one song in the country, Blurred Lines has drawn fire from critics who says its' lyrics, teasing a "No means Yes" message, indirectly promote rape.
Passages include: "Good girl, I know you want it … Talk about getting blasted / I hate these blurred lines / I know you want it / But you're a good girl / The way you grab me / Must want to get nasty."
Article continues below advertisement
In addition, the video itself has drawn ire, as one version features the second-generation entertainer and his collaborators, T.I. and Pharrell, dancing alongside three stunning models -- Emily Ratajkowski, Jessi M'Bengue, and Elle Evans -- all topless, had been banned from YouTube.
The clean version doesn't show nearly as much skin, though it's plenty sexually suggestive.
Canadian model Amy Davison posted a YouTube video saying Ratajkowski, M'Bengue and Evans "are clearly being used as objects to reinforce the status of the men in the video.
"The men have all the control and status because they are not vulnerable -- they are completely covered. Whereas the women have no status and are totally open to be exploited ogled and used. It doesn't jibe with me."
Feminist in L.A. Blogger Lisa Huyne wrote of the hit, "Has anyone heard Robin Thicke's new rape song?
"Basically, the majority of the song (creepily named 'Blurred Lines') has the R&B singer murmuring 'I know you want it' over and over into a girl's ear. Call me a cynic, but that phrase does not exactly encompass the notion of consent in sexual activity.
Article continues below advertisement
"Seriously, this song is disgusting -- though admittedly very catchy."
The hip-hop hunk laughed off accusations of sexism in regards to the video in a chat with GQ.
Watch the video on RadarOnline.com
"We tried to do everything that was taboo … everything that is completely derogatory towards women. Because all three of us are happily married with children, we were like, 'We're the perfect guys to make fun of this.'
"People say, 'Hey, do you think this is degrading to women?' I'm like, 'Of course it is. What a pleasure it is to degrade a woman. I've never gotten to do that before. I've always respected women.' So we just wanted to turn it over on its head and make people go, 'Women and their bodies are beautiful,' he said. "Men are always gonna want to follow them around."
radar_embed service=youtube src="https://www.youtube.com/embed/yyDUC1LUXSU?feature=player_detailpage" width="640" height="360"