Awkward! Did Craig Ferguson Suggest Rob Lowe Was An 'A**hole' To Him In The 80s?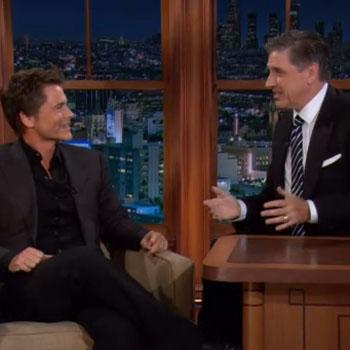 Rob Lowe and Craig Ferguson go way back to the 80s – possibly not in a good way, however.
The hunky star of Parks and Recreation, appearing on The Late Late Show Monday, remembered back to the decade of decadence, a time when Ferguson, stuck in obscurity, worked as a doorman at a New York late-night club called Save The Robots.
"And you know we were doing a lot of espresso," Lowe, who's been open about his battle with addiction, joked.
Article continues below advertisement
"
Who was the biggest a**hole to ever come into Save the Robots?" Lowe asked the host, who, with a grin, coyly replied, "I can't tell you."
Watch the video on RadarOnline.com
Lowe, thinking Ferguson was implying it was him, seemed surprised, but Ferguson let him off the hook, saying: "Eh, you had a few drinks, it's alright, we all make mistakes."
The Late Late Show with Craig Ferguson airs weeknights at 12:35 a.m./11:35 a.m. on CBS.