'I Feel So Sh***y About Myself' Housewife Shannon Beador Cries Over Cheating Husband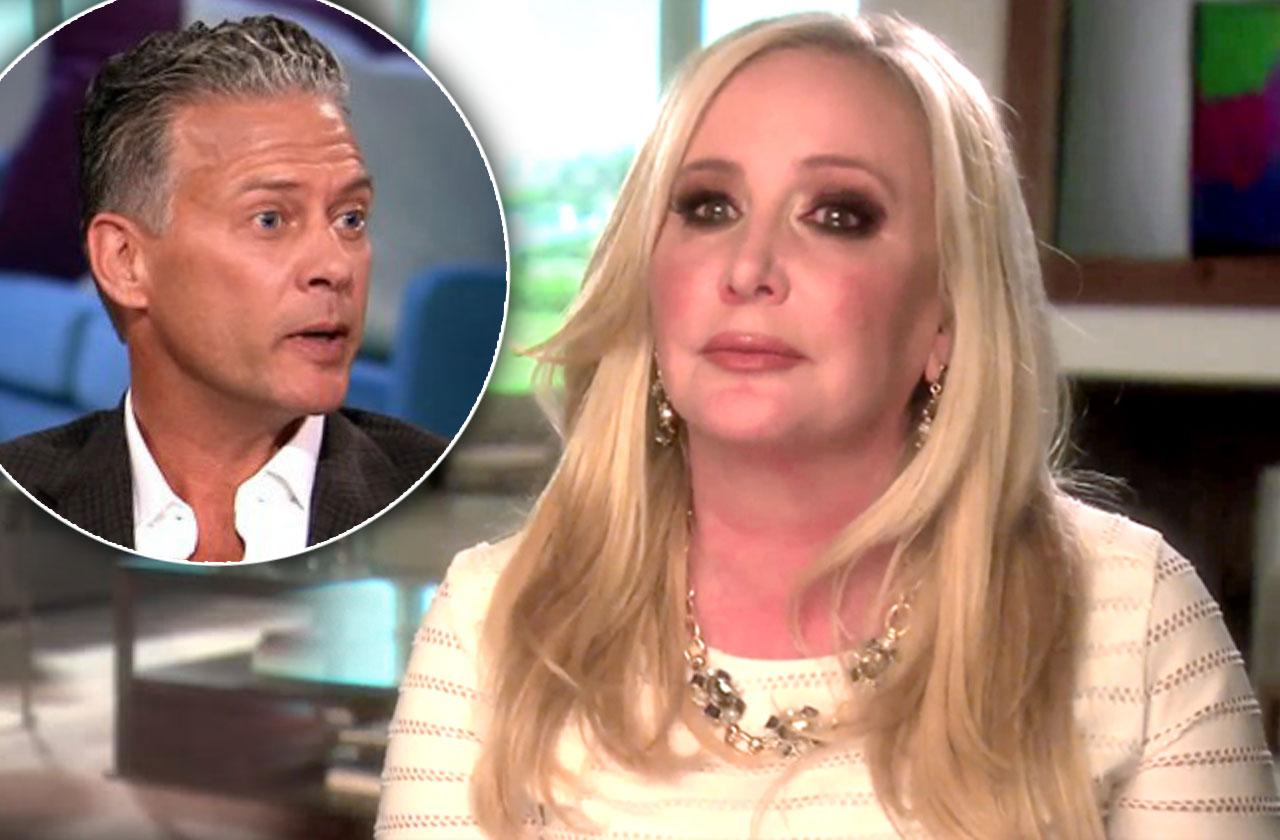 The reality drama went from emotional to physical in episode 13 of the Real Housewives Of Orange County. Shannon Beador's bickered with her husband and Vicki Gunvalson fought with Tamra Judge for what seemed like the millionth time!
Shannon's broken marriage was the main drama of the show as she struggled to find a way to save it from its inevitable destruction. Vicki and Tamra's feud was a close second, as the dramatic duo tried to hash out their problems once and for all.
Article continues below advertisement
The Bravo show began with Doug McLaughlin's vasectomy party, cheekily titled a "Balls Voyage," in which all of the women except a sick Vicki hung out. It was so fun they almost didn't fight!
"I thought Shannon and I were starting over," Lydia said about Shannon. "Then she has a dinner and invites everybody and doesn't invite me."
No one dared tell Lydia why she wasn't invited, which infuriated her as she tried to enjoy her own party. "I don't know what to believe. Everyone is trying to protect Shannon," she grumbled.
David Beador and Diko Sulahian discussed Peggy's double mastectomy, with David's questions becoming reminiscent of those in the Brooks Ayers cancer scam.
"They removed a mass, biopsy negative, inside the mass they found 3 millimeters of cancer. What are you going to do? You freak out, you know?" Diko said about his wife's frightening diagnosis.
New friendships were forged when Tamra and Peggy bonded at McLaughlin's party.
Article continues below advertisement
"I felt bad for you last night," Tamra told the newest housewife. "I felt like it was coming at you all at once and I felt that you had good intentions but I have to say you handled yourself very well. I woke up thinking I did the wrong thing. Everyone starts ganging up on one person. I've been that person. It's not a good feeling."
Her words weren't magical though. "I appreciate Tamra's apology but why didn't she stick up for me in person," Peggy sniffed.
In the only shot of luxury, Kelly Dodd's python purse was the topic of conversation. Even though python purses are supposedly illegal in California.
In an odd turn of events, Kelly and Vicki decided to get colonics together, but Vicki broke down in tears while getting cleaned out.
"Can you measure the poop because I'm sure she's more full of sh*t than me," Kelly joked about her friend.
Vicki admitted that she didn't "ever poo. First of all I think it's gross," she revealed.
Article continues below advertisement
Kelly summed up Vicki's emotions as the treatment started. "All this toxicity that she's saying she has? I think this colonic is good for her."
An emotional Vicki revealed she feared she would "probably just die of a broken heart," explaining: "All the heartache  that has happened in my life. The Brooks, the friendships the divorces, Tamra, the whole thing. I don't know why I can't get it solved. I don't know why I can't get it fixed," she cried.
She even admitted that she was sorry she invited Ricky to her birthday party, after the Eddie Judge gay scandal exploded!
Said Kelly: "I think Vicki can put a hard shell on the outside. I'm trying to get along with everyone."
At the same time, Vicki admitted she's tired of the feuding: "I want to be able to be in the same room."
Shannon's heartbreaking marriage crumbled as her mother came to visit. "I feel so sh***y about myself and when I look in the mirror I don't even recognize myself," she cried. "I know David is disgusted by the whole thing."
Article continues below advertisement
A tearful Shannon told her mom about their problems. "Ever since our vow renewal, David keeps taking steps back from me.  And now since I've let myself go I know we just kind of stay clear of each other. A couple weeks ago he said our marriage wasn't doing well."
Her mom offered advice. "You have to figure out what can you do to make your marriage better," but Shannon could not let go of her husband's affair.
"I have thoughts about that affair. Will I ever really get away from it? I remind him of the period of the affair. Before I would be able to forget about it because I could say everything is so great. But now everything isn't so great. It is a vicious cycle."
To make matters worse, David made snide remarks during a family dinner, suggesting that his wife had been living with a "silver spoon" in her mouth.
Article continues below advertisement
"I worked every single weekend," Shannon said, defending her childhood. "I used to haul logs up in a wheel barrel. While I did grow up privileged I appreciate it and I'm sorry I happened to be in an affluent family."
Her husband quipped that she didn't appreciate their lifestyle, which crushed her. "I want that husband that looked at me with adoring eyes."
Peggy also ripped into David Beador after he questioned her husband about her cancer diagnosis.
"It's none of your business," she said. "It's not coming from a place of concern. It is very insulting. I just didn't like that dad was put in that situation," she told her children.
"The way he was asking me made me feel like I was being interrogated by him," Diko told her.
"I think it is a disgusting and cowardly move," Peggy said about Shannon's spouse. "David is lucky I wasn't there. I would have thrown him off the boat. It's sad. I'm disgusted. Dis. Gust. Ed."
Article continues below advertisement
While Tamra worked out with Lydia she also admitted that she wanted to repair her friendship with Vicki. "As much as I try not to let the Vicki thing get to me it stresses me out. I'm really tired of the Vicki thing. It's physically making me sick now. I want to put the past behind us. I want to move forward."
Vicki echoed her sentiments, later calling her to set up a coffee meeting after admitting to boyfriend Steve Lodge that their feud was "like a cancer inside me."
"I think it is time to bury it," she told Tamra on a filmed phone call where they set up their coffee date. "Have a one-on-one sit down for a minute."
Will they fix things after all?
Stay with Radar for weekly recaps of all the insane drama on The Real Housewives of Orange County!
We pay for juicy info! Do you have a story for RadarOnline.com? Email us at tips@radaronline.com, or call us at (866) ON-RADAR (667-2327) any time, day or night.