'RHOBH' Star Carlton Gebbia Slams 'Naïve, Dramatic' Joyce Giraud -- And Possibly Puts A Spell On Her Husband!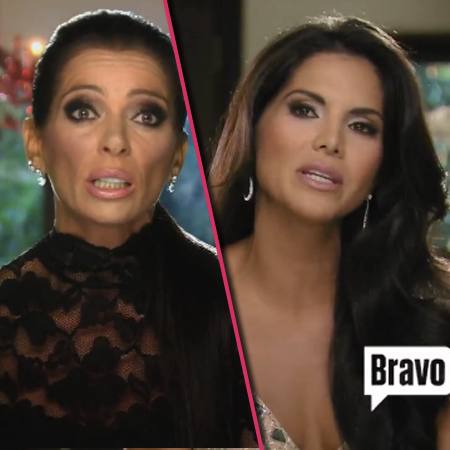 Carlton Gebbia was the center of attention as she threw the provocative pool party for her adult friends on Monday night's episode of Real Housewives Of Beverly Hills.
Surrounded by naked women and stripper poles, Carlton let loose for her fellow housewives hosting a Playboy mansion-inspired bash.
Despite the fun atmosphere, things quickly got dramatic between Kyle Richards and Carlton. Spying her new pentagram tattoo, Kyle -- who converted to Judaism for her husband, Mauricio -- made the mistake of thinking it was the Star of David.
Article continues below advertisement
"Is that a Jewish star?" Kyle asked, to which Carlton responded, "Really? Are you f*cking kidding me?"
Watch the video on RadarOnline.com
The drama continued the following day, when Yolanda Foster invited her pals over to her home. She was taken aback when Lisa Vanderpump cancelled at the last minute.
"When I get the text from Lisa, I'm shocked. You're canceling two minutes before you're supposed to be here? Who does that?" Yolanda vented to the Bravo cameras.
Lisa tried to get out of the party, saying she didn't know much about it.
"I thought we were closer than that. Text me the night before, not two minutes before," Yolanda said.
"Lisa promised she'd be here. A commitment is a commitment in my book."
As the party finally gets started, Yolanda asked if Joyce Giraud wanted wine. Joyce threw in a dig about her frenemy and sneered, "No. But maybe we can bring it out if Brandi Glanville wants wine."
Article continues below advertisement
"Can you do me a favor and not label her?!" Carlton called out Joyce on her mean girl behavior. "She's bloody dramatic."
"I'm not saying she's the alcoholic of the group," Joyce responded.
Once Brandi arrived, the self-proclaimed Wiccan ranted about her co-star Kyle, claiming she was ignorant about her faith.
"She was very uncomfortable around me," Carlton observed, to which Brandi Glanville joked, "She thought you were going to cast a spell on her."
"I f*cking will," Carlton said with a laugh.
"She's very sensitive about her religion," Brandi confided to the cameras.
"I feel like she's talking sh*t behind my back," Carlton ranted.